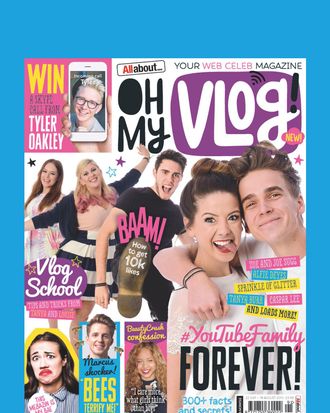 If you're a U.K citizen interested in understanding "youth culture," consider rushing out to your newsstand to pick up the very first issue of Oh My Vlog! magazine.
Oh My Vlog! is not a joke but an actual paper "web-celeb magazine" for tweens 'n' teens who worship at the altar of YouTube. It's like Tiger Beat or BOP but instead of ripping out posters of Devon Sawa to fake-kiss, today's kids can fantasize over photos of their favorite YouTube stars, like Alfie Deyes (?), Tanya Burr (?), or "I'm terrified of bees" Marcus (??) — and learn how to get 10,000 likes on their own social-media accounts.
One might ask: Shouldn't a teen publication about vloggers exist solely online? No, because wherever there's a teen, there will always be a desperate need to cut out pictures of lust-objects and add them to collages. And that necessity is what will keep print alive for at least a decade.