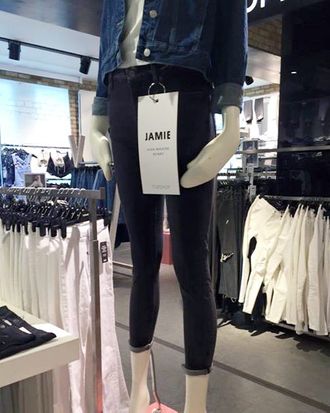 Photo: Laura Kate Berry/Facebook
In keeping with the grand tradition of retailers being forced to admit that their mannequins have very little in common with actual human anatomy and are maybe complicit in perpetuating harmful beauty standards, Topshop has announced that it will stop ordering a dubiously sized fiberglass model.
Last week, disgruntled customer Laura Kate Berry posted a photo of the mannequin in question on Topshop's Facebook page, accompanied by a lengthy diatribe railing on the retailer's "lack of concern for a generation of extremely body conscious youth … I'm old enough and wise enough to know I will never be this size, but as we've all been impressionable teens at one point, I'm fairly certain if any of us were to witness this in our teenage years, it would have left us wondering if that was what was expected of our bodies," she wrote, adding, "P.S. just so you know, after taking this picture I used my size 10/12 legs to walk straight out of your store."
Topshop responded somewhat defensively, claiming that the mannequin is based on a standard U.K. size 10 (U.S. size 6 — which seems questionable), though also notes, ambiguously, that "the form is stylized to have more impact in the store." The retailer added: "As the mannequins are solid fiberglass, their form needs to be of certain dimensions to allow clothing to be put on and removed easily; this is therefore not meant to be a representation of the average female body." Nevertheless, the brand conceded it would no longer place orders on this style of mannequin, joining the growing host of retailers who have ditched super-skinny mannequins after a round of social-media shaming.