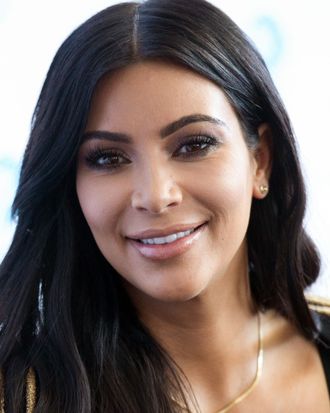 Photo: Marc Piasecki/GC Images/Getty Images
Over the weekend at Kim Kardashian's master makeup class, attendees who paid between $299.99 and $999.99 a ticket heard Kardashian talk about how much she loves a hair-strengthening product called Olaplex. "When your hair is really damaged, if you sleep in that, it really works. I notice a huge difference!" Although it sounded like a paid endorsement, Kardashian was raving about the product for free.
Ask hair professionals about Olaplex and you'll find it difficult to avoid wondering if they're being sponsored — although Dean Christal, Olaplex's owner, assures me the brand has no ads or spokespeople. Hair-industry praise for Olaplex sounds like the beginning of an Apple livestream: "Game changer." "Incredible." "It is the most revolutionary hair product," colorist Aura Friedman at Sally Hershberger tells me, with zero hyperbole.
"I've been in the hair industry for 20 years and have seen every so-called miracle product. When I first heard about it, I thought it was complete bullshit," says Michael Angelo of Wonderland Beauty Parlor. "But then, I tried it and said, 'I need to eat my words.'"
Like all the best origin stories, Olaplex's begins in a garage — the Santa Barbara garage of scientist Eric Pressly, a materials Ph.D. who had no experience working in beauty or hair care. Pressly and his colleague Craig J. Hawker, who holds a doctorate in chemistry and is the founder of Santa Barbara's prestigious Hawker Institute, were ushered into the world of hair by beauty entrepreneur Dean Christal.
Christal was struggling to develop a UV silicone when another scientist tipped him off to Hawker. He snuck in to meet Hawker without an appointment and explained his problem, and Hawker quickly solved it. "We talked for four hours and I convinced him that it might be worth expending some energy into a product that could make hair great," says Christal. Hawker said he had an idea and asked Christal to return the next day at 2 p.m. Then, "they handed me a 100 millimeters of a goldish liquid that looked like Miller beer," Christal says.
Christal tested out the initial versions of Olaplex with permed hair, noticing that it made hair stronger, healthier, and shinier. Then Lona Vigi, a celebrity hairstylist, introduced him to legendary Hollywood colorist Tracey Cunningham, who works on the heads of Jennifer Lopez, Gwyneth Paltrow, and Kardashian. Christal gave Cunningham two bottles of the product and the next day, Cunnigham texted him to let him know that she "fucking loved" it. "I had an actress client that ran off with her cell phone while her hair was in a foil for 45 minutes. I knew her hair was going to be melted off but she had Olaplex and her hair was even better than when she started," she told Christal.
For a few weeks, Christal, Pressly, and Hawker made a liter of Olaplex every day for Cunningham, driving it two hours to her Mêche Salon. Soon after, other colorists like Guy Tang heard about the product. Today, Olaplex — which can be used in a salon format or a take-home format called No. 3 — is in over 100,000 salons. (For perspective, Christal explains that most large brands are in about 32,000 salons.) Pressly and Hawker are still credited as its chief inventors.
To understand how Olaplex works requires a bit of a chemistry lesson. Your hair is made up of disulfide bonds. When you perm, bleach, or color your hair, or use heat styling, some of the disulfide bonds split to become hydrogen-sulfur bonds. Hydro-sulfur bonds create broken links of hair, leaving it dry or damaged. Additionally, these hydrogen-sulfur bonds can oxidize to sulfates over time, resulting in irreversible damage. Like hair rehab, Olaplex relinks these broken hydrogen-sulfur bonds and leaves the hair strengthened. Colorists love the product because it allows them to bleach and even take a brunette to Kardashian-level platinum without worrying that their client's hair is going to "melt." Consumers love it because they can leave a coloring session without their hair feeling like straw.
It sounds like the world's greatest conditioner, but Friedman says, "No conditioner can compare." Unlike a conditioner or hair mask which hydrate your hair, Olaplex actually strengthens your hair, making it look shinier. Stephanie Brown, a master colorist at the Nunzio Saviano Salon, explains, "You can actually see it looking healthier." Friedman's advice is to leave the No. 3 Olaplex in as long as possible, including while you sleep, and rinse it out in the morning morning like Kardashian does. Although it's primarily recommended to repair hair health after coloring, it can also be used to heal heat damage for a variety of hair types. Right now, the brand is available in-salon only, but the company is looking to create additional products.