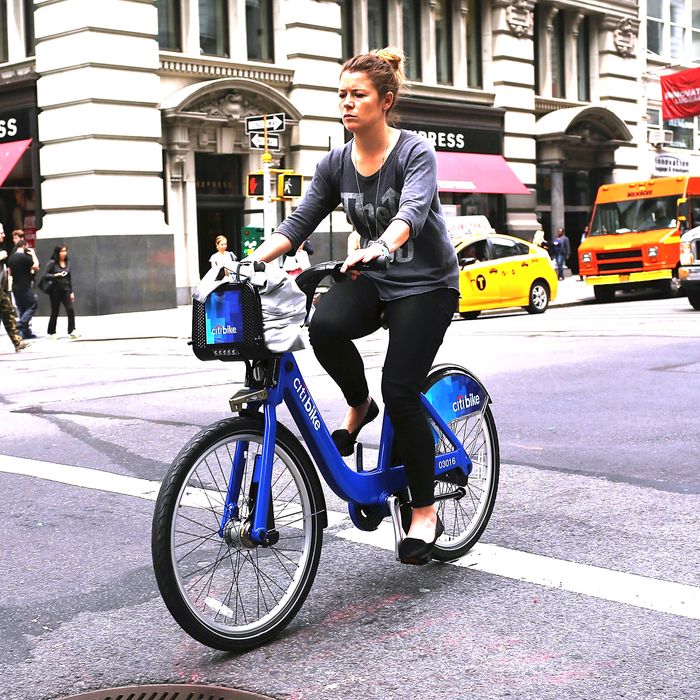 Photo: Spencer Platt/Getty Images
Citi Bike, it seems, has a woman problem. The bike-sharing service, now entering its third year of existence, is having trouble getting female New Yorkers to ride its bikes, the New York Times reported earlier this week. According to a recent study from New York University's Rudin Center for Transportation, less than 25 percent of all Citi Bike trips are taken by women, and that number drops to 20 percent during bad weather.
But this isn't just a Citi Bikes issue. It isn't even just a New York City issue. Rather, it's a microcosm of the gender gap in cycling that persists across the country, even as bike commuting becomes more popular overall. (According to recent data from the U.S. Census Bureau, bike commuting increased 60 percent in the last decade, though still just one percent of Americans routinely bike to work.) Just like what's happening in New York, bike shares in Chicago and Washington are also more commonly used by men, and, outside of bike-sharing programs, the total number of men's cycling trips outnumber women's by a ratio of 2:1.
And yet in nations like Denmark or the Netherlands, where bicycle commuting is practically a given, the gender disparity vanishes — more than half of all Dutch bike riders are women, for instance. So what explains the dearth of American women cyclists?
Kelcie Ralph, an assistant professor at Rutgers University, who studies the transportation habits of young adults, wanted to first brush aside two reasons that don't explain the disparity. "It's not about, They don't want to get their hair messed up or They don't want to get sweaty," Ralph said, with the slightest edge of impatience in her voice. "Those are secondary reasons."
Instead, Ralph and others who have studied urban cycling and gender argue that the key factor here is safety. "In places where biking is safe — in the Netherlands and a few other areas — women bike and, often, women bike more than men," she said. Some studies in psychology have suggested that women tend to be more risk-averse than men, though recent evidence suggests that perhaps women are less likely to take risks precisely because we expect them to be.
In her own research, Ralph has seen firsthand "two bits of evidence" that do point to a difference in safety perception between genders, at least when it comes to urban cycling. "My work in the field is from the London bike share, and they also had trouble attracting women," she said. On a busy weekday and on a busy London street, Ralph kept count of the bike share users she saw; less than 20 percent were women. But on the weekend, when traffic had slowed, about 40 percent of bike share users she observed at the same spot were women. "Better still, in the parks, over half of them were women," Ralph said. "So that's an indication that it's not that women don't like to bike," it's that safety plays a huge factor in whether or not they decide to do so. And perception of safety plays a part, too, Ralph adds. "When women look at a given street, they perceive it as less safe than a man does," she said.
Risk aversion isn't the whole story here, however. According to a 2014 UCLA report that Ralph co-authored, women who have children make twice as many trips carting the kids around than their male partners, and about twice as many trips to the grocery store. The American Time Use Survey echoes that data, finding that women are still spending more of their time on child care and other domestic responsibilities than men. "In surveys I've done, women are also more likely to say that they don't have time to bicycle, again likely pointing to different household and other responsibilities," said Jennifer Dill, an urban planning professor at Portland State University, in an email to Science of Us. "In Denmark and the Netherlands, you see bikes that easily accommodate young kids with their parents and more older kids biking on their own. And social policy [in those countries] supports more gender equity."
What this means, in essence, is that there are no easy ways to get more women biking, whether on Citi Bikes or their own personal bicycles. "It's not about getting purple bikes or pink bikes," Ralph said. (Citi Bike has not exactly tried that, but the Times article notes that it has tried things like promoting photos of celebrities such as Karlie Kloss or Leonardo DiCaprio on CitiBikes, or placing the bikes in the windows at Bloomingdales's.) Rather, "It's about huge changes to the street network." Protected bike lanes, separated by traffic flow by concrete barriers are best, but painting designated cycle lanes also helps, Ralph said. "Paint is cheap — convincing people to give up space on the road is more difficult." she added. But things are changing: Since 2007, the city has added more than 30 miles of protected bike lanes, and Josh Benson of the New York City Department of Transportation told Fast Company last year that the plan is to add another five miles of protected lanes "every year going forward."
For now, however, the fact that Citi Bike is so male-heavy speaks volumes. "Women are an indicator for the health of cycling in your cities," Ralph said. "Elderly people, younger people — all of these people would be more likely to use it if women are more likely to use it. So if women are not using your bike service, then there are probably some pretty serious issues."