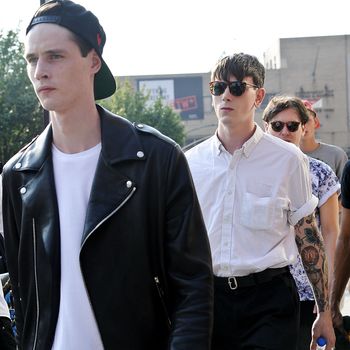 Photo: Daniel Zuchnik/Getty Images
On Monday, an international crew of 3,000 buyers and press will descend on Skylight Studios in Clarkson Square for a packed schedule of more than 50 menswear shows, organized by the CFDA and spread over the course of four days. While it's nothing compared to the women's 300-plus, eight-day circus, it's a significant marshaling of the city's menswear talents, ranging from heavy hitters like Calvin Klein, Tommy Hilfiger, and Michael Kors, to up-and-coming brands like Boyswear and Chapter.
Still, some are wondering if the city really needed its own men's fashion week. A Bloomberg piece this week questioned whether it was "really a good idea," with one editor complaining, "Another branded fashion week is the last thing we need." Not to mention that with houses like Prada, Gucci, Givenchy, and Margiela sprinkling female models into their menswear lineups and vice versa, younger labels like Public School and Hood by Air showing co-ed lineups, and unisex fashion gaining hold not just as a trend, but as a movement, a separate men's week could seem like a step back. But the members of the menswear community I talked to felt that it's a necessity. While many spoke about patriotism and the need to bring newfound awareness to menswear, the push was largely motivated by less sexy factors: namely, scheduling and market realities, which are entirely different from those of the women's business.
Simply put, when menswear designers showed as part of the larger NYFW in previous seasons, they were doing so two months after they sold their collections. And any press they received as a result of a show was small compared to the higher-profile women's collections. (CFDA CEO Steven Kolb described menswear at NYFW as "tacked on" to the women's shows.) Meanwhile, American menswear designers' counterparts in London, Milan, and Paris have long benefited from dedicated fashion weeks that match up more closely with the selling schedule and receive widespread attention. As designer Todd Snyder bluntly told the Cut, "U.S. menswear has been an afterthought for years."
Belgian designer Tim Coppens, who showed in NYFW for several seasons, says that he did so to "get [his] name out there a little bit," but that "it just didn't make any sense to have a collection stored away for more than a month, and then picking it back up, styling it, and showing it to the world." This season, he'll have international buyers in the audience and NBA star Nick Young perched in the front row. "There is a relevance now, and buyers [will be] looking at the collection, placing their orders," he says.
While it remains to be seen if the week will be a success, the CFDA has at least excelled at attracting top talent and a marquee sponsor. Women's fashion week in New York has been beset with various venue- and sponsor-related setbacks; men's week was able to bring in Amazon Fashion as a sponsor — even before the venue and designer slate was set in stone, according to Kolb. "It was all very conceptual" at first, he noted, sitting for an interview in the organization's sunny Bleecker Street offices earlier this week. "That commitment on their part, and their ability to conceptualize what we are doing, is very important. They've been critical to the success of this, and are invested in the long run because our work with them will go past this season."
Kolb noted that conversations about the need for a separate menswear week in New York have been going on for about a decade — he recalls having talks with John Varvatos about it "eight to ten years ago." Other designers who've actively pushed for it, he says, include Snyder and Billy Reid. The CFDA worked on putting together the current concept for two years, and the organizers are hoping that it "takes [menswear] out of the shadows of women's," as Kolb put it.
"I think the industry felt that it was time to kind of wave the American menswear flag," said Michael Maccari, the creative director of Perry Ellis, which is kicking off the final day of the week. "Everyone talks about London men's week and it being so successful. And I think [this] could put the city back on the map in an additional way."
Still, it does seem strange that when we're talking so much about genderless dressing, a gender-segregated week is debuting. Kolb acknowledged that as an industry, we are at "a cool moment in our history, and I think that says a lot not just about our industry but society in general. I think it's a very positive statement in terms of definition of people and self." But he's quick to remind me that not as much has changed as we'd like to think. "The men's business and the women's business are still separate businesses. The men's floor is different than the women's floor, the men's buyer is different than the women's buyer, the men's magazines are different than the women's magazines — the industry is still segmented. You start to see crossover, but you don't really see this complete melding, and that's going to happen a long time down the road."
As for changing things around to make things more harmonious for a mixed-gender fashion week, Snyder is dubious. "It would be nice to be on the same market schedule," he says, "but that would take a global effort or an act of God." Failing that, he'll happily take the exposure of a separate week, saying, "It's about time!"

For harried designers, there's one other argument for a men's week in July, though it's not the most sophisticated one. Perry Ellis's Maccari appreciates that there won't be any sweating through the final weeks of summer getting a collection ready for post–Labor Day. "[Now] you can probably take a vacation in August, which is a switch."