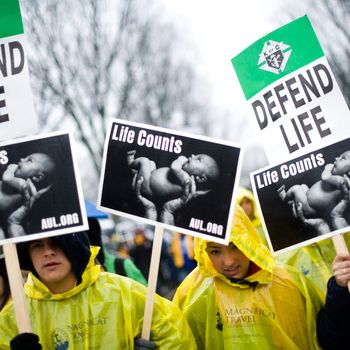 Anti-Abortion protesters during the 2012 March for Life.
Photo: Shawn Thew/Corbis
The latest smear campaign against Planned Parenthood has found no shortage of support among Republican presidential hopefuls. Following the release of a now widely debunked undercover video — which purports to show a Planned Parenthood doctor talking about the sale of "baby parts," while in actuality, she's discussing the legal practice of donating fetal tissue for medical research — Jed Bush, Ted Cruz, Carly Fiorina, and Rick Perry rushed to condemn Planned Parenthood, and House Republicans have announced a Congressional investigation into the health organization.
According to its creator, anti-abortion activist David Daleiden, the video is the first of many (a second was released last week). It also reflects the evolution of Republican anti-abortion rhetoric. As the 2016 campaign kicks into gear, Republican candidates are working to shift conversations about abortion away from the "war on women" paradigm by focusing instead on the humanity of the unborn. "Shock the conscience, warm the heart," as Kellyanne Conway, a Republican pollster who has advised Republican candidates and anti-abortion groups on how to hone their message, described the approach to the New York Times.
Subtle shifts in rhetoric have long been key to the anti-abortion movement's effectiveness: Think of the difference between "pro-life" and "anti-abortion," or "fetus" and "embryo." Conway told the Times that she's advised Republicans, especially men, to describe seeing ultrasound images for the first time while talking about their views on abortion. Now, Rick Perry discusses seeing a 20-week ultrasound of his grandchild; Chris Christie claims seeing an ultrasound of his first daughter changed his views on abortion; Marco Rubio says seeing ultrasounds of his children reinforced that "they were children"; and Rand Paul does a bit about fetuses sucking their thumbs.
Jeanne Mancini, the president of March for Life, told the Times that her group now discourages protesters from using posters depicting graphic images of abortion, opting for pictures of babies instead. Like the undercover video, these tactics are designed to put Democrats on the defensive, forcing them to debate the moral questions associated with abortion.
Already, it seems likely that abortion will be a significant factor in the 2016 presidential election. Many experts predict that the Supreme Court will take up a major abortion case next term, and the Senate will soon consider a bill that would ban abortion after 20 weeks of pregnancy.