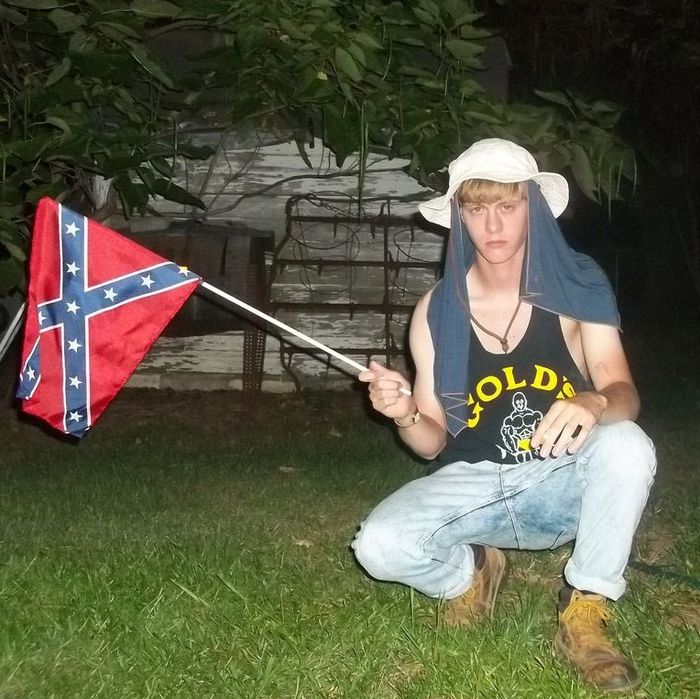 Within just a few days of Dylann Roof's racially motivated murder of 9 African-American worshippers and clergy in Charleston's historic Emanuel A.M.E. Church, a sea change appeared to be under way with regards to the Confederate flag — this after decades of tense and slow-moving debate about whether the symbol deserves any kind of place in modern public life.
In short order, the governors of South Carolina and Alabama asked for the flag to be taken down from their respective Capitol grounds, other southern states showed a sudden willingness to reduce the visibility of the flag, and Amazon and Walmart stopped selling it. All this occurred against the backdrop of a loud chorus of online activists arguing that it was time to take the flag down once and for all — a few days after the shooting, the #takeitdown hashtag was tweeted 12,000 times in one day. Why all the sudden movement on an issue that had been a sore culture-war sticking point for decades? Yes, Roof's massacre was horrific, but it obviously wasn't the first racist violence to have occurred in a state where the Confederate flag flies.
"The pace of this change has been quite staggering," said Dr. Jonathan Knuckley, a political scientist at the University of Central Florida who studies southern politics. The why ties into some basic, vital aspects of how Americans' political opinions are formed and expressed. Foremost among them is the idea that most Americans simply aren't all that informed about most policy issues, and when they do form opinions, they look around for highly visible cues to guide them toward the "right" opinion. (The notion that most Americans simply aren't savvy when it comes to politics and policy may whiff of elitism, but it's also one of the more durable findings in political science — in 2011, for example, about a third of Americans couldn't name the vice-president.)
Dr. Timothy Ryan, a political scientist at the University of North Carolina, explained that until recently, this was true of the Confederate flag as well. "The typical citizen, if you asked them what they thought about the Confederate-flag issue in South Carolina two or three weeks ago, they would be making up their opinion on the fly in that moment," he said. "Whereas now people have had some time to think about it, have had a push to think about it."
As a result of this push, these voters will use whatever available cues come to mind to generate an opinion — a news segment they saw, a recent conversation with a friend. And those who sit somewhere in the middle and who are giving serious thought to the Confederate-flag issue for the first time are awash in anti-flag sentiments, whether delivered via Twitter, on news reports of anti-flag protests, or on radio spots covering Walmart and Amazon's decision. These days there are tons of cues to draw upon, and very few of them would nudge one to support the Confederate flag.
Perhaps the most potent of such cues is the now-infamous photograph of Roof posing in front of the Confederate flag. "It doesn't take much to process," said Knuckley. "It's kind of one of those gut, visceral, I-don't-even-have-to-think-about-this-issue [images]." This cue, and others like it, affects voters on both sides of the issue. "The other side of that coin — it becomes a lot more difficult to be for [the flag]," said Knuckey. "Just a month or so ago, someone could have made a perfectly, in their mind, rational argument. It's the kind of issue now that's difficult to be in favor of."
That doesn't mean that support for the flag is now going to drop to zero, Knuckey emphasized. Ryan agreed. "I bet you haven't changed so many minds among the people who are really strong, meaningful supporters," he said. But that's not the point — the point is those folks on the middle, say, third of the Confederate-flag-opinion spectrum. Those who supported the flag, but just barely, are now seeing all sorts of highly visible cues indicating that the country is turning against them,while those who were just barely against it will have their preference intensified.
The end result? A shift in polling, perhaps (there haven't yet been any surveys released that allow for apples-to-apples comparisons on the flag issue from before and after the church attack), but, just as important, a group of "antis" who are much more engaged and vocal than they were before the shooting — in part because they're feeding off the sense that, nationwide, people are moving against the flag. Political scientists call this "preference intensity," and it's incredibly important: A minority of citizens who are stridently opposed to a new bill can, in the right setting, "beat" a majority of voters who are slightly for it but don't care all that much.
To Knuckey, all this negative attention will likely affect not just voters being surveyed, but southern legislators themselves. Those legislators have always been aware that they represent a loud contingent of pro-flag folks, but now, in the wake of the A.M.E. shooting, they have to factor in the existence of a fully engaged, energized activated group of voters on the other side of the issue as well. So all the negative attention the flag has gotten "makes a vote to take it down easier now than it would have been a month ago," he said.
In the long run, of course, the AME shooting will fade from the news. And David Paleologos, director of the Suffolk University Political Research Center, which just released a poll showing the nation to be about evenly divided on the question of whether the flag is racist — it was the first time Suffolk had polled on this issue, and results therefore can't give any sense of the trajectory of opinion on this issue — said that there's a chance that opinion will bounce back in favor of the flag. That is, fewer cues could mean a reversion to old, less strongly held opinions.
In the meantime, though, what we're witnessing isn't just a shift in opinion, but policy change — albeit minor ones, in some cases — on the part of multiple state houses and huge retailers. Even if public opinion reverts back to where it was before the shooting, a new status quo is in place and it'll be difficult, in those places that have responded to this sudden surge in anti-Confederate-flag sentiment, for the flag to once again be raised — or sold.