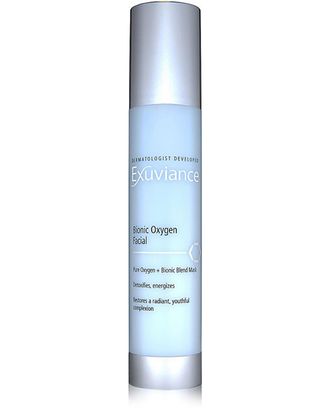 There are oxygen masks that save your life, and then there are oxygen masks that save your skin. The latest in the latter group is Exuviance's Bionic Oxygen Facial, in which thousands of oxygen-filled bubbles dispense micro-amounts of oxygen to detoxify, energize, and restore luster to lifeless skin. I jumped on the opportunity to test the facial after a fulfilling yet gluttonous weekend of celebratory drinks, sweets, and sleeping in my makeup. Would the at-home facial work, or were its claims nothing more than hot air?
Pumped from the bottle, the facial looks and feels like a blue gel cleanser. I lightly applied four pumps to my damp, clean face and watched how the gel grew frothy and turned white after 30 seconds. On my skin, the mask felt light and airy, as if I had submerged my head in a bubble bath. It tingled a bit, but in a nonirritating way that made me think that, deep down, my pores were getting a thorough but gentle cleanse. After nearly three minutes, the bubbles began to dissolve and the foam slowly disappeared from my face. Following the facial's instructions, I rinsed the remaining residue after five minutes.
After the facial, my skin looked a little less dull and sallow, hiding the sad truth that I'd slept in a full face of makeup the previous three nights. Whether or not my face was detoxified and energized will remain a mystery to me, although it did feel smoother and look brighter. In other words, you could say that the oxygen bubbles revived my tired and abused face, which makes this mask a bit of a lifesaver in its own right.
Exuviance Bionic Oxygen Facial, $65 at Ulta.