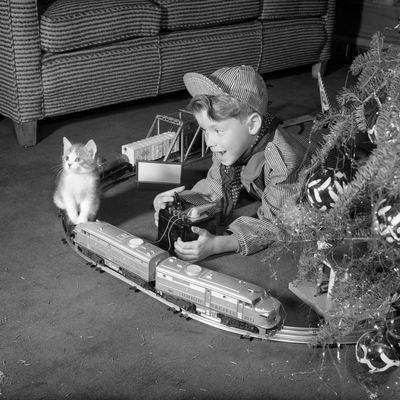 Photo: ClassicStock/Corbis
Who among us hasn't dreamed of taking their cat for a jaunty stroll through the neighborhood, if only we could trust that they'd obey commands or not run onto the subway tracks? One enterprising New York woman decided to test her luck by walking her cat, but ended up accidentally snarling traffic on five NYC subway lines.
The 23-year-old Washington Heights woman took her leashed cat, George, out of his carrier while at the Canal Street subway stop on Wednesday. George was fine until an E train trundled into the station, and he freaked out and jumped down onto the tracks dangerously close to the third rail. Passengers on the platform were able to get the train to stop before it reached George, and two NYPD officers safely rescued him and returned him to his owner.
"I went over and grabbed him and gave him a little scratch on the head and said it was all good," one officer said, according to the Post. "The cat actually put his paws out on each of my shoulders like he was hugging me."
Maybe next time try putting the cat in a baby carrier?*
*Not actually recommended.