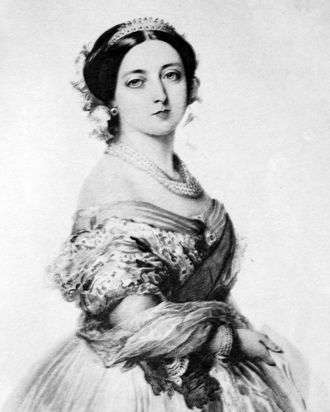 Queen Victoria.
Photo: Universal History Archive
If you're still in the market for this season's trendiest full-coverage undergarments, good news: A pair of Queen Victoria's roomy cotton panties, worn in the last years of her life, will be auctioned off next week in Wiltshire. The undies, reportedly in "excellent condition," feature an embroidered royal monogram and are expected to sell for several thousand pounds.
In what seems like a somewhat cruel application of historical data, auctioneer Richard Edmonds has determined the date of the royal underwear by measuring the waistband, which comes in at 45 inches. "Earlier in her life she was slimmer, but her pants got bigger as she got older," Edmonds told the BBC. Since there's a substantial photographic record of the queen, researchers were able to determine that, based on the size of the underwear, the queen would have worn this pair during the last ten years of her life.
It's not the first time Queen Victoria's undergarments have come up for sale: Last year, a pair of her silk bloomers sold for over 6,000 pounds.