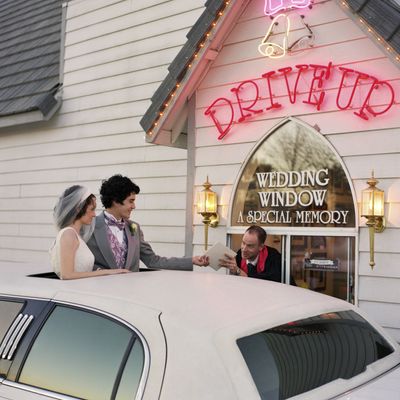 Do you remember in 2004, when Britney Spears grabbed her childhood friend, flew to Vegas, and — most likely fueled by youth, Twizzlers, and Mountain Dew — rented a lime-green stretch limo and headed over to the Little White Wedding Chapel? They pledged eternal love to one another and then 55 hours later got their marriage annulled. It was spectacular.
Do you want to live in a world where that can't happen? Well, if more people don't head to Sin City and make it official, we just might have to.
According to the Los Angeles Times, the number of couples who got married in Vegas's hotels and walk-in chapels has dropped 37 percent in the past decade — a loss of $1 billion annually. As a result, chapels are shutting their doors and putting their Elvis impersonators out to pasture.

But Vegas won't go down without a fight: The tourism organization Vegas Weddings is launching a full-scale attack to revive interest in a hip and cool Sin City wedding, the marketing director told the Times. They're considering tactics like starting a social-media account where people can post pictures of their wild 'n' wacky nuptials. But the real question: Why is a short, cheap ceremony — under ten minutes, less than $200, immediate access to 24-hour buffets — such a tough sell?
I blame these jokers.