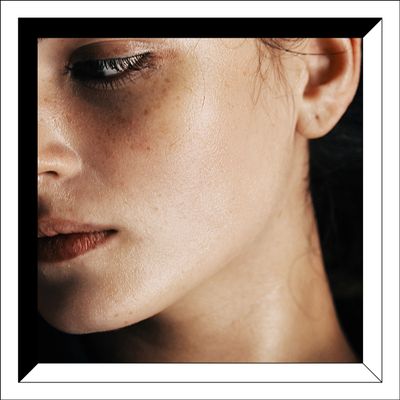 Left Eye says no to scrubs.
The Skin We're In: Because sometimes beauty really is skin deep.
Not too long ago, I heard some alarming news about a beloved skin-care product: the always-reliable facial scrub. I spent nearly two decades assuming that a scrub was, at best, the secret to smooth, buttery skin, and at worst, a guy who thinks he's fly and is also known as a buster. But then Paula Begoun, the founder of Paula's Choice, told me this: "When you scrub skin with abrasive scrubs, they put micro-tears into skin. They make your skin more vulnerable to environmental damage, pollution, and sun damage." That's why she refuses to sell facial scrubs to customers, arguing that the damage from scrubs leads to inflammation, which in turn causes premature granny skin.
As a twice-a-week scrubber, I found this information disturbing. After all, aren't scrubs good for you? Don't they slough away dead skin cells to reveal radiant baby skin? Dr. Howard Lancer, a Beverly Hills dermatologist, thinks so. In fact, he advocates scrubbing every day so that helpful active ingredients in moisturizers can penetrate the skin more efficiently. "I have all my patients get in the habit of using a physical scrub — what I call polish — every single day, as it actually teaches the skin cells to turn over more quickly, mimicking the action of youthful cells."
Begoun calls foul on this line of thinking, telling me that scrubbing to make ingredients penetrate better is like stabbing yourself only to stick medicine in the wound. Still, I was torn, especially since Dr. Lancer treats Beyoncé. It's not easy to defy the queen.
Talking to Manhattan dermatologist Dr. Neal Schultz clarified a few things. He took the middle road, saying that scrubs aren't necessarily catalysts to sad, wrinkly skin, but they are troublesome. For Dr. Schultz, the issue falls on human error. How long and how rigorously a person scrubs his or her face will determine whether the skin gets irritated. There's also the matter of the granules, or the specific grains that make up different scrubs. Large, hard, and sandlike rocks, like the ones in St. Ives's Apricot Scrub, are the most damaging because they are too abrasive for the face's thin skin. Dr. Schultz says softer and smaller paste-like micro-grains are less likely to irritate. Plastic beads are best, but unfortunately, they are incongruous to a balanced ecosystem.
I called another Manhattan dermatologist, Dr. Dennis Gross, who set the tone for our conversation by declaring his passionate aversion to scrubs. "Scrubs are a primitive way to exfoliate. It's like using sandpaper on your face. If you look closely at the sandpaper surface, you'll see lots of scratch marks, and that's what happens on the skin." He agrees with Begoun that the inflammation and irritation triggered by scrubs can accelerate the aging process. Part of the reason scrubs may be so popular, despite their negative long-term effects, is that they're cheap and the aging repercussions aren't noticeable until years, even decades later.
That's not to say that people shouldn't exfoliate. Chemical exfoliants like glycolic and beta hydroxy (also known as salicylic) acid peels are universally preferred by skin-care experts. Like scrubs, they gently encourage skin-cell turnover, but unlike scrubs, they're generally very expensive. Take Murad, for example. The brand's Skin Polish (a scrub) retails for $30, but its Radiance Peel (a chemical exfoliant) is a hefty $55. Scrubs are affordable and deliver immediate results — they're the McDonald's, if you will, of skin care. But just as a juicy Big Mac delivers instant satisfaction but long-term negative consequences, so can scrubs. Begoun notes, "You might have heard that a scrub will help with collagen, but that's like saying smoking a cigarette helps with relaxing. There are other ways to stimulate collagen without damaging the skin."
So, yes, to some degree, scrubs cause cosmetic damage. The severity of that damage wholly depends on how well your skin is able to repair itself, the kind of scrubs used, and the frequency and intensity of use. Despite their intimidating name, chemical peels are, in fact, less damaging, so we've rounded up a few you should consider.
A Peel That Smells Delicious
Photo: Ren
Ren's glycolic and lactic-acid mask is a cocktail of naturally exfoliating fruit extracts. Thicker than most peels (which is why Ren calls it a mask), the goo's tropical ingredients give the mask a Bahama Breeze scent. It's fairly gentle, sloughing away dead skin with a kid-gloves approach.
The Fast-Acting Peel
Photo: Korres
If peels had taglines, Korres's Vitamin C Petal Peel's would read: "But, wait, there's more!" In addition to exfoliating skin to reveal a brighter, complexion, the alpha hydroxy acid peel is packaged with a moisturizing mask that goes on as soon as the peel has dried on your face (about 30 seconds). The two-pronged approach leads to soft and dewy skin in a matter of minutes.
A Peel You Take to Bed
Photo: Kate Somerville
You'll need to wait a cool month before you can experience the full effects of this gradual peel. Formulated to release slowly so that it won't irritate fussy skin, Kate Somerville's RetAsphere Micro Peel gradually delivers glycolic and lactic acid each night. By week two you should notice smoother skin, and by month's end, the creamy peel, which can double as a night cream, will dissolve pesky dark marks and acne scars.
A Peel That's Heavy-Duty
Photo: Exuviance
Exuviance's Peel contains a blend of 25 percent alpha hydroxy acids — nearly the highest percentage in the bunch. The high-powered treatment is dispensed in a series of tiny, acid-soaked square towelettes to renew your complexion quickly. Fast-acting and potent, this one is best for tough and durable skin.
A Peel That Won't Cost a Fortune
Photo: Dr. Dennis Gross
If you're a newbie to peels, consider Dr. Gross's option, which is a chemical exfoliant available in two strengths — extra strength and original formula. It comes in packages of five, 30, and 60, so you can try the five-pack on for size and get smoother, brighter skin for just $17.
A Peel That Also Fights Acne
Photo: Cane and Austin
Peels with glycolic and salicylic acid, like Cane + Austin's Miracle Pads, work to prevent acne, in addition to smoothing skin. Start this intense 30 percent acid peel as a single daily treatment, and after a few days, try your hand at a morning and evening application for glowy and clear skin at warp speed.
A Peel That's Whole Foods–Approved
If the potency of a glycolic peel seems intimidating, consider MyChelle's pumpkin version, which mildly exfoliates with fruit enzymes. This savory-smelling peel injects a jolt of energy into tired, dull skin and yields a refreshed-looking face immediately after use.
This article was originally published August 11, 2015. It has been updated throughout. If you buy something through our links, New York may earn an affiliate commission.