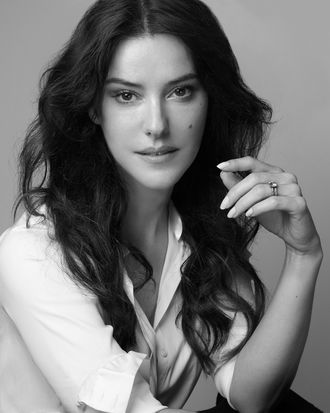 Photo: Courtesy of Lancome
If makeup YouTube videos are your ASMR, you've likely heard the calm British tones of makeup artist Lisa Eldridge. Like other YouTube makeup sensations, Eldridge's videos, with subjects like "PMS Face" and "Classic Smokey Eye Tutorial," have over a million hits. But unlike other YouTube makeup stars, Eldridge is also a professionally trained makeup artist whose clients include Kate Winslet, Alexa Chung, LOVE magazine, Vogue U.K., and photographers like Mert Alas and Marcus Piggott. Without the aid of paid marketing or ads (a strong stance of Eldridge's), she has created a powerful community of "Lisa fans," all without giving a tour of her bedroom or adopting the typical singsong tones of a YouTube makeup star. At a party to fête Eldridge's newest role as creative director of Lancôme, Eldridge talked to the Cut about how a Victoria's Secret model's meeting with an ex inspired her first video, how it took her two years to test lash serums, and why she isn't fooled by packaging.
How did you start your career?
When I was 13, I was given a book called Stage Makeup for my birthday. I remember thinking, Oh you could do this as a job? And that was it. I said to the teacher at school, "I don't think I need to do math anymore because I'm going to be a makeup artist." But it was quite a slow process. Occasionally you would meet someone who would say, "Oh I know someone whose cousin's friend does makeup," and it was like, "Oh my God, can I meet them?" I'd be testing for shoots over the weekend and at night, and I was working every day at this architect's office. Slowly, slowly, I started to get my portfolio together, assisted people backstage, got an agent, and started to do quite well.
But I remember people asking what kind of makeup artist I wanted to be and I would say, "Oh, I'm just going to be doing like Vogue covers and that sort of thing." Now I think, Oh my God that sounds so conceited, but at the time, that's what I wanted to do. I just believed it was going to happen. But it took a while, it was up and down, two steps forward, one-and-a-half steps back.
Were you into YouTube before you were on YouTube?
I remember seeing Lauren Luke and thinking, Wow, isn't this amazing? This is a girl in her bedroom who just loves makeup. She's got the dog snoring in the basket, how authentic is that? Talk about integrity. Then I'd be doing an advertising campaign for millions of dollars, and I'd say to the guys, "You realize that when you put this up, this girl on YouTube can say she doesn't like this product and it won't make any difference how much money you spend?" They would say, "It's got nothing to do with us, it's a different industry." I'd be like, No, it's the same thing and I know it's going to be huge. It did take a while. I think people thought, Oh she's a bit mad.
What I loved about YouTube was that it was focused on the consumers. They are making the videos — they're makeup consumers, and that's so powerful. It's a bit different now because there's more sponsored videos and things, but back then, it was so authentic and that is what I loved about it. Their personalities really came through.
You mentioned authenticity — you're unique from other makeup YouTubers in that you don't do any ads or paid products.
It's so important to me. I do things I really believe in, otherwise I can't do them. When I can talk my own talk, and about things that I like, that's when I can feel happy and content. I remember when YouTube started to get advertising, one ad that really put me off before a tutorial was for yeast infections. I was like, If I ever have this, I just want straight makeup, I don't want to sit through an ad.
The sponsorship thing hasn't worked for me because people haven't understood who I am. With Lancôme, this is the first time a brand has ever spoken to me about authenticity and really nailed it. They said, "We're looking for a creative director; would you be interested?" And I said, "I don't just want a title. I want to be creative director and actually do the products, colors, have a say in digital, and what goes onstage during the international conference." Since I was announced in January, I've done 18 new lipstick shades, 25 new nail polishes, none of which are out yet. I did new eye palettes for Japan. I'm changing the texture of the eye palettes completely. There's a lot changing!
How long does it take to film a typical YouTube video?
I've got my own studio, so I like to do it on a day that I feel good. Some days, you wake up and you don't feel like you're in a mood for it. I try to find a day when I'm free in my schedule. But it takes probably an hour, really, an hour and a half.
I really do my research beforehand, so I think about what look I'm going to do. My first video ever was "Meeting the Ex," and that was because I was with a Victoria's Secret model. We spent the whole week planning how she was going to meet her ex, and the makeup she was going to wear. She said to me, "You should make a video about this." And I thought, You know what, I think I will. You're a bloody Victoria's Secret model, and if you are worried about meeting your ex, what hope is there for the rest of us? I just worked with her again last week, we were laughing about this, because she's now got a new boyfriend and she's happy.
As a makeup artist, what have you learned about makeup and how it relates to people's sense of self?
I've learned that there's no one take on anything. I'm happy when people do my looks but they change something. Hello, you've passed my school of makeup! You learn whatever you need to learn and you made it your own.
I like that there can be choice in makeup. I never, ever want to say, "Don't do this, you can't do that, you shouldn't do this." I say what I think and I've got certain ideas, and maybe I have a certain aesthetic, but I don't think everyone should have the same aesthetic as me.
There are also times in our lives when maybe we want to wear a mask. If you're a teenager and you've got spots and are feeling very vulnerable, makeup can be a lifesaver. If it can twist something in your mind or change how you are, how you act, what you're able to do, and help you get over a couple of difficult years, then cover those spots and carry on. I'm never judgmental about that.
What is your methodology for testing products?
I'll do the full thing. I'll try to use it for a while unless it doesn't work straight away and we've got a mixture of skin types in the office. Also, I can always ask the community, what do they think? I recently tested eyelash serums. I tested three, and it took two years. And now I'm ready to make the video. That's how long I'm talking about. I also want to know the ingredients because I'm quite a geek in that way. When I go to the L'Oréal labs and talk to the scientists, I can say to them, "I want this to be a volatile silicon and emulsion." I like to be able to talk the talk and know what I'm talking about. I've been in product development for over 15 years.
Usually when I go shopping, or when someone sends me something, I know where it's been made, which factory, and I can label it. I know the name of the original formulation. It's quite funny when I see people on YouTube going, "I tested this one and this one, and this one's much better." And I'm thinking, They are the same! The packaging is different, but the product's the same.

This interview has been edited and condensed.