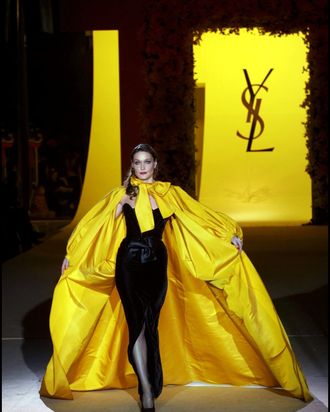 Carla Bruni at the last Yves Saint Laurent couture show in 2002.
Photo: Simon/Stevens/Gamma-Keystone via Getty Images
Yves Saint Laurent hasn't made a couture collection since the designer himself produced his 200th and final show in 2002, but British Vogue reports that the house is now returning to couture. Having worked on its revival since 2012, Hedi Slimane will oversee the new atelier, which is housed in a 17th-century mansion in Paris complete with a "geometric garden." The designs will also be more exclusive than ever — they're accessible only to Slimane-approved "friends of the house," so not even the wealthiest of the wealthy are guaranteed a shot at commissioning the expertly tailored smoking jackets of their dreams. Each piece will be stitched with ivory silk satin labels, numbered, and recorded meticulously in a gold monogram book. While the designs won't show with the rest of the couture collections, there is some good news for us plebeians: They'll be available for viewing in a black-and-white ad campaign out in magazines next month.
This post has been updated with additional information.