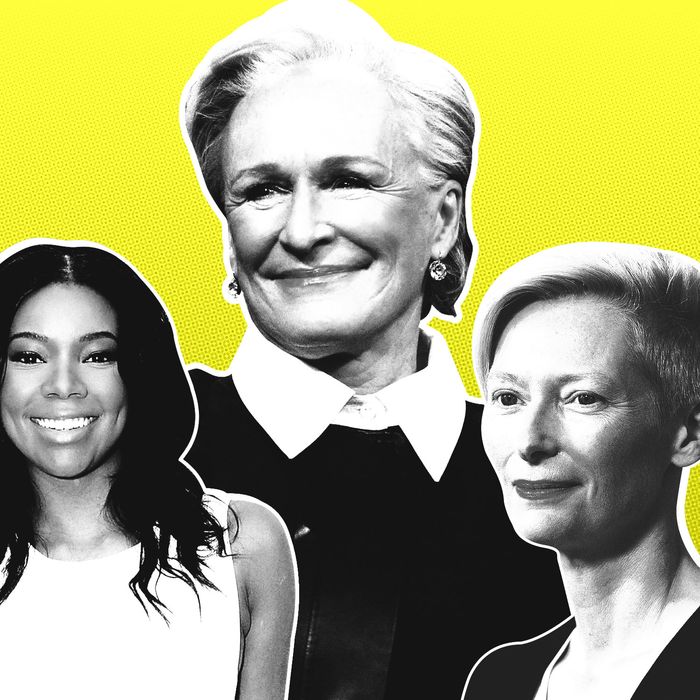 No matter how varied their backgrounds and paths to success, accomplished women can usually agree on one thing: That somewhere along the way, they found a woman (or five) who boosted their career immeasurably. In honor of She's the Boss week, we asked famous women to reflect on the female mentors who've helped them become the badass bosses they are today. Read their responses below.
Parker Posey
"Nora Ephron was a mentor to me. She's a real fairy godmother. I was cast in Sleepless in Seattle, and when my scene was cut, she wrote me a lovely note. I still have it somewhere. She supported me. I used to have lunch with her. She was so elegant, witty, and super intelligent. I remember one of the notes she gave me when I worked with her — I was looking up at her expectantly, and she says, 'Parker, just be funny,' and walks away, laughing."
Tilda Swinton
"My tutor at university was an ancient lady with a beard, Margot Heinemann. She taught literature and was an amazing intellectual. When I'd go to her and say, 'I haven't done my essay,' she would ask, 'Why not?' And I'd say, 'Well, I'd been busy doing this.' And she'd say, 'Write an essay about what you've been doing.' She was a really cool woman, and a wise woman."
Charlize Theron
"J.J. Harris was my manager for many years, and I wouldn't be standing here today if it wasn't for her. She was an incredible woman in my life. As far as business is concerned, she taught me what it meant to be a woman and to be able to say no — to not just take a job because you are so grateful that a man gave you a job. She used to say to me, 'It's okay, you can say no,' and, 'You're going to make a career on saying no.'"
Jane Krakowski
"Besides my mother, I can't think of any other woman who's had a greater influence on my life than Tina Fey. I've had such amazing years working with her and observing her genius. She's great about comedy and lady business."
Iman
"I've always believed that women should find other women to mentor them. A lot of times we think those executives don't have the time, but once you come to them, they really lift you up. Years ago, I met Rose Marie Bravo, who jump-started Burberry. She's mentored me through every move I've made with my cosmetic company. She's told me what not to do, and when I needed to meet people that might be influential for me, she introduced me. It's been amazing."
Glenn Close
"My best friend is Mary Beth Hurt. My first job as a professional actress was understudying for her on Broadway. And my first film was Garp — she played Garp's wife, and I was Garp's mother. She's been my inspiration throughout my career. She's brilliant. There have been times in my career where I've said, 'What would Mary Beth do?' And thinking of that has led me to something good."
Jazz Jennings
"I don't know if this is corny, but my mom has been there right from the start. She's the first person who accepted me as transgender, and she's taught me to love myself and embrace who I am. She's the only mentor I have and the only person who is my true inspiration. I would want to be a mom just like my mom."
Nikki Glaser
"My therapist is a 70-year-old woman, and she's been though everything. She's like, abusive. Really mean, but it works. She's such a badass. She's cooler, more confident, and stronger than any other [person] I've met. She's someone I aspire to be. On Mother's Day I texted her, because she feels like a mother to me."
Michelle Monaghan
"I really have to tip my hat to my agent, Bonnie Bernstein. I've been with her for ten years. She's been relentless in her ability to push and support me, and she continues to inspire and motivate me. One of the greatest things she's given me is the freedom to feel like it was okay to take time off to be a mom. It's really hard — you reach a certain point in your career, and everybody says it's not a good time to have a baby. You bite the bullet, and it's a little daunting. It's scary. To have somebody say to you, 'You're doing the right thing. You're doing what's right for you,' is an incredible gift."
Dascha Polanco
"My mother instilled my culture, my morals, my values — so that's who I look up to. The great values and the great influence of my parents is what has allowed me to become the woman I am today. Integrity, values, and morals are all really important. What good is it that you're pretty if you don't treat people well? The best advice my mother gave me is to never give up, work hard for what you want, and always keep on top of your hygiene."
Gabrielle Union
"Jennifer Lewis took me and a lot of other young black actresses under her wing and made sure we didn't fall on our faces. It's been 20 years, and she still checks in with us."
Judy Greer
"I recently started working with this incredible acting coach, Nancy Banks. I love her support and her belief in strong female character, and she helps me find the strength in the characters I'm playing. I have also been lucky to work with this amazing director, Jamie Babbit, who I think of as a mentor as well. I'm really inspired by her — hopefully, I'll be directing myself someday."
Additional reporting by Marcus Jones, Bennett Marcus, Jenny Peters, Trupti Rami, Renata Sellitti, Caroline Tell, Valentina I. Valentini, and Kat Ward.