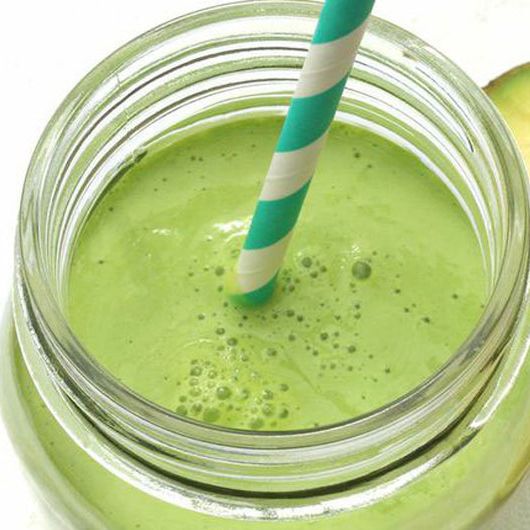 Whether you wake up ravenous or only eat breakfast because you know it's good for you, you probably have something that works. It might be hard-boiled eggs, a bowl of cereal, or a granola bar shoved into your bag on your way out the door. Often, these things are neither satisfying nor delicious, but what are you going to do, cook before work? Ha! In the name of morning realism, we asked five dietitians to share recipes for filling, homemade breakfasts that don't require waking up any earlier. You can make most of them the night before or even days in advance, and the others are ready at warp speed.
Avocado-Baked Egg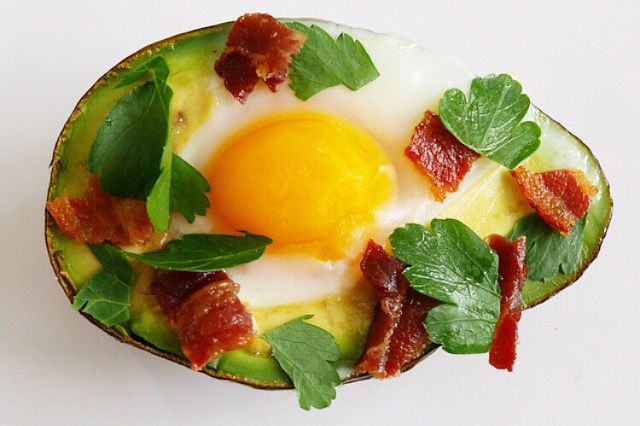 While this isn't a make-ahead recipe, the prep is fast and you can get ready while it bakes. It's a great breakfast with protein, healthy fat, and fiber, says Heather Bauer, RD, CDN, and founder of bestowed.com. Bonus: minimal cleanup!
What you need:

½ an avocado
1 egg
1 slice of cooked turkey bacon (optional)
Parsley, salt, and pepper, to taste
How to make it:
Preheat oven to 400 degrees. Halve and pit an avocado, scooping out a little extra. Crack an egg into the center, then bake for 18 minutes. Top with parsley, crumbled turkey bacon, salt, and pepper, if desired.
Makes one serving.
No-Bake Maple-Oatmeal-Raisin Cookie Bites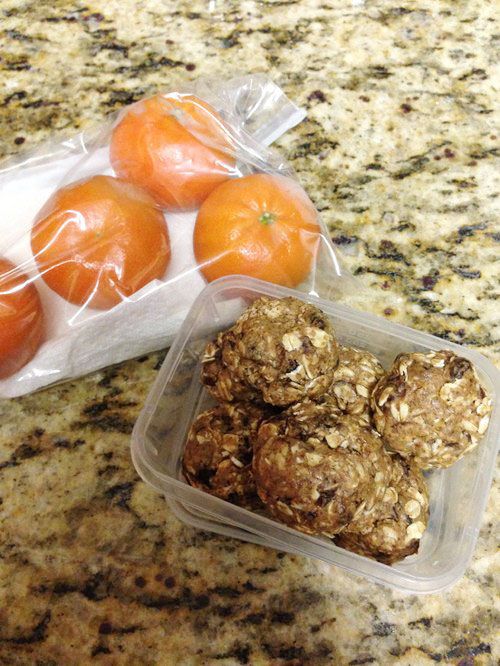 These four-ingredient energy bites take almost no time to make, says Caroline Kaufman, MS, RDN, who recommends eating two of them with a piece of fruit, like a clementine or a handful of fresh berries, in the morning. Store in the refrigerator in an airtight container and freeze after five days.
What you need:
½ cup rolled oats
⅓ cup maple-almond butter (or ⅓ cup almond butter and 1 tablespoon maple syrup)
½ cup raisins, chopped
½ teaspoon cinnamon
How to make it:
In a medium bowl, stir together all ingredients. Roll into eight balls and refrigerate overnight.
Makes eight bites.
Sassy Green Smoothie Kits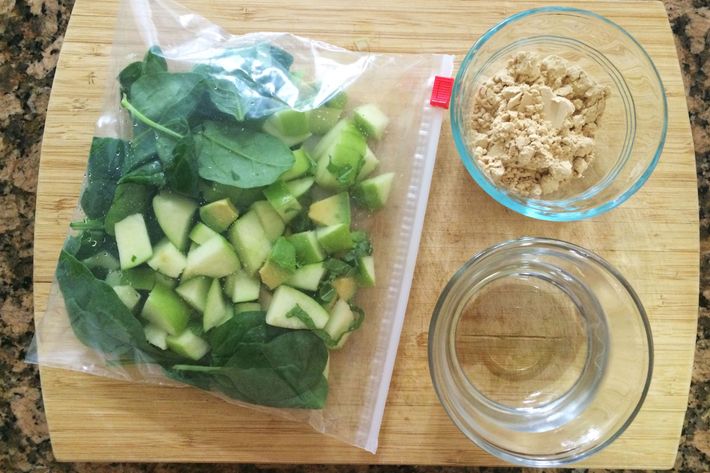 If you prefer to drink your breakfast, you're already breaking out your blender in the mornings. Simplify the process by getting your ingredients together in advance and freezing them — you could make one kit or seven, up to you. "This smoothie provides a healthy balance of good carbs, healthy fat, and lean protein to support sustained energy all morning," says Cynthia Sass, MPH, RD, contributing nutrition editor for Health magazine, and author of Slim Down Now.

Place the following in a zip-top bag and freeze:
1 small green apple, chopped (skin on)
1 cup fresh baby spinach leaves
¼ ripe Hass avocado, chopped
1-inch cube of fresh ginger root, peeled
2 chopped fresh mint leaves
How to make it:
Place the frozen ingredients in a blender with ¾ cup water (more if you prefer it thinner), 1 tablespoon fresh-squeezed lemon juice, and ¼ cup vanilla-flavored pea-protein powder (or plain with 1 teaspoon of organic honey), then blend until smooth.
Makes one smoothie.

Overnight Oats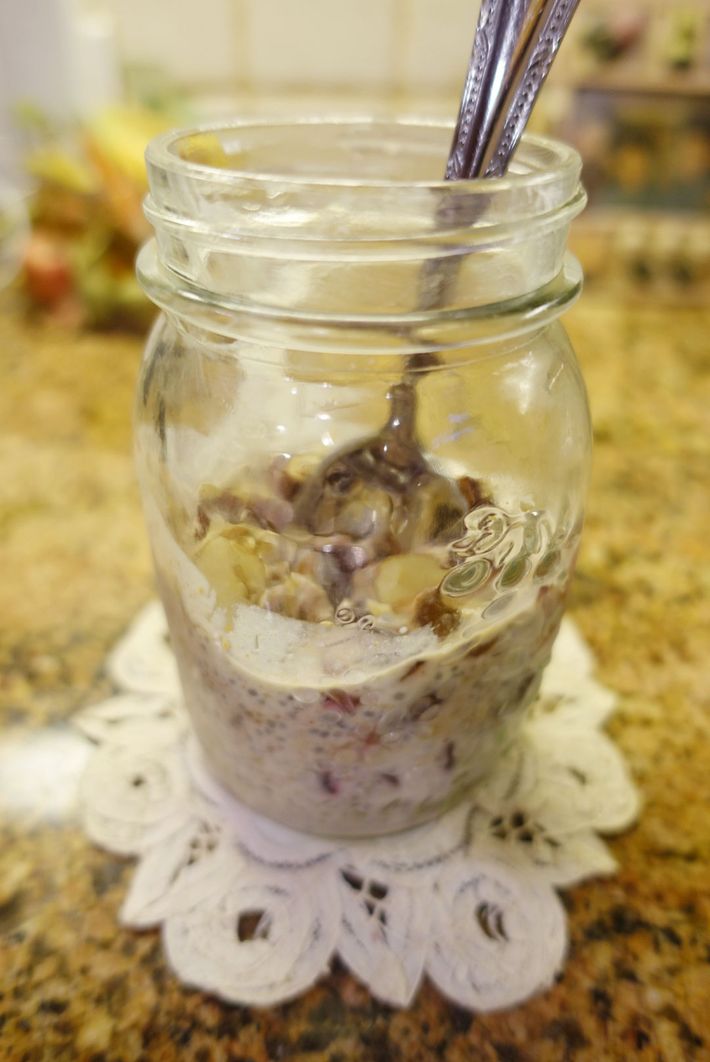 Eat it at home or put on the lid to take it with you. "The powerful trifecta of protein, whole-grain carbs, and healthy fats will keep you from hitting the vending machine before lunch," says Bonnie Taub-Dix, RDN, author of Read It Before You Eat It. Feel free to get creative with the fruit and nuts if you don't have the ones listed below (or if you hate them). Taub-Dix suggests trying other combos, like banana and walnuts or mango and pistachios. The recipe makes one small serving, but you can add more skim milk and Greek yogurt as desired.

What you need:
⅓ cup KIND Healthy Grains Fruit & Nut Clusters
¼ cup skim milk
¼ cup plain Greek yogurt
1 teaspoon crunchy almond butter
1 tablespoon chia seeds
10 cherries (frozen or fresh), cut into pieces
1 teaspoon sliced almonds
How to make it:
Mix ingredients in a bowl and spoon into a Mason jar. Cover and refrigerate overnight.
Makes one small serving.
Veggie-and-Cheddar Mini Quiches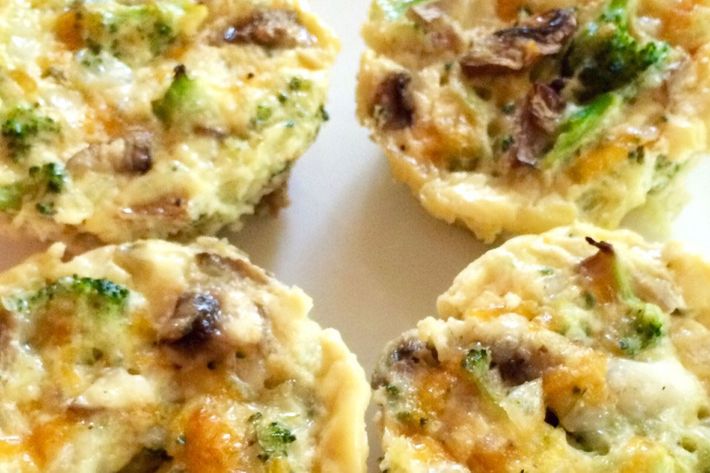 "I make this healthy quiche in muffin tins in a big batch and then freeze them," says Keri Glassman, MS, RD, contributing editor for Women's Health magazine, and author of The New You (and Improved!) Diet. "In the morning, I microwave them for 15–20 seconds." She'll eat two or have one with a piece of fruit. Glassman healthed up a traditional quiche by making the crust out of wheat germ and ground flaxseed and using omega-3-enriched eggs. The recipe below makes six quiches, but you could double it if you have a 12-cup muffin pan. Store them in an airtight container in the fridge or freeze them.
What you need:
1 tablespoon + 2 teaspoons wheat germ
1 tablespoon ground flaxseed
2 omega-3-enriched eggs
2 egg whites
2 tablespoons whole milk
½ cup low-fat cottage cheese
⅛ teaspoon garlic powder
¼ teaspoon freshly ground black pepper
¼ teaspoon finely chopped fresh tarragon
¼ cup shredded cheddar cheese
1 cup chopped, cooked broccoli
½ cup chopped mushrooms
Parmesan cheese (optional)
How to make it:
Preheat the oven to 350 degrees. Coat a six-cup nonstick muffin pan with cooking spray. Combine the wheat germ and flaxseed in a small bowl. Add one heaping teaspoon of the mixture to each muffin cup, spreading to coat the bottoms evenly. Whisk the eggs, egg whites, milk, and cottage cheese in a bowl. Add the garlic powder, black pepper, tarragon, and cheddar cheese, and whisk until combined. Stir in the broccoli and mushrooms and divide the mixture among the muffin cups, using ¼-cup measures. Bake for 30–35 minutes on the middle rack in the oven, or until the mini quiches are lightly browned on top and a knife inserted in the center comes out clean. Let them cool in the pan on a rack for 5–10 minutes; use a knife to loosen the edges from the pan and remove the mini quiches. Serve sprinkled with Parmesan cheese, if desired.
Makes six mini quiches.