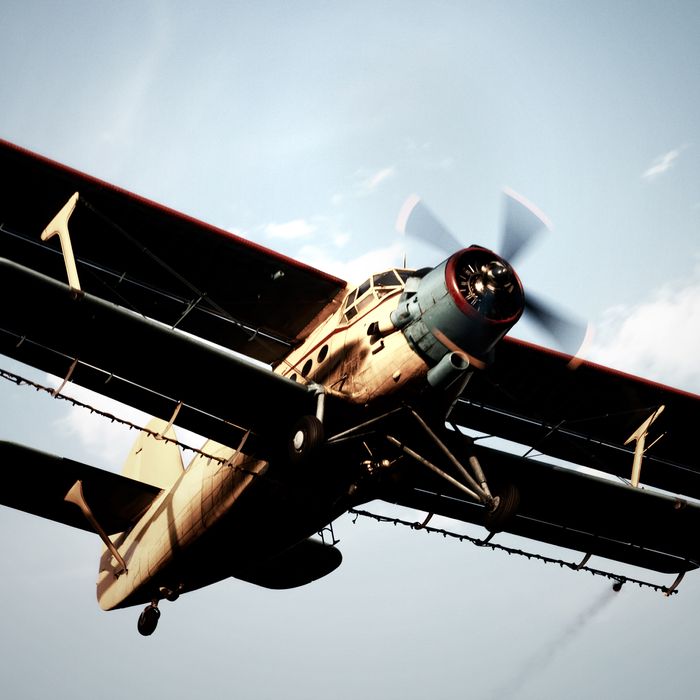 Photo: illustration; photo by leksandar Dickov/Getty Images
New York's Sex Diaries series asks anonymous city dwellers to record a week in their sex lives — with comic, tragic, often sexy, and always revealing results. This summer, the Sex Diaries will appear on the Cut as a special edition. Check back weekly for a peek behind doors left slightly ajar.
This week, a small-business owner having an affair with a man who takes her flying and wants to see her with other men: female, 51, midtown, mother of five, divorced.

DAY ONE
11:30 a.m. It's been several months since meeting the Chief Orgasm Officer, and as usual, he's there and I'm here. Though I've been feeling a little pushed aside this weekend, I'm not taking it personally. He knows that my mind gets a little jumpy when he's home with his family — yes, he's married — but he also knows (and kinda counts on) that I am capable of dealing with it. We're both aware of what I signed up for. Our arrangement is essentially "a secret affair." I've been divorced twice, and the last divorce was devastating. Cried all last summer. So there is a reason why our "arrangement" works … Don't want to get too close. But, you know, eventually that is unavoidable.
3 p.m. Today, it's space. So, just like he forgives me when I succumb to the voices in my head, I forgive him for acting a little Jekyll and Hyde. Dudes don't like to mix their peas with their carrots (unless it's a threesome) or their mashed potatoes with their corn. He's got all four: a wife, a kid, a high-caliber job, and, well, me.
5 p.m. My job is to keep the Chief Orgasm Officer sane: to soothe him when he misses his son and frets over how many days he's away from him; to listen and offer advice, insights, patience, and understanding when work consumes him or he's just had a shitty day; and to provide him with endless hours of physical comfort by voice, by text, over Skype, or in person. And yeah, a lot of eye candy in the form of sexy lingerie, masturbation videos, and Playboy-like photos
Up until recently, I held up having five children as my greatest accomplishment. Lately, I think it's "handling" the COO's varied and unique needs. Which, after my very unanticipated maritus interruptus, is near miraculous. Most women, after experiencing such devastating treatment from a man to whom they entrusted themselves and their children, would probably spend their days thinking about punching any guy that looked at them in the balls. Not me.
6 p.m. Daydreamed about COO all day. When he shuts down, I (try to) keep the brooding to a minimum.
9 p.m. After almost seven months of triple-X-rated texts, videos, and one-on-one time, worrying about how I "come off" by texting good night is, well, a little silly. Besides, he likes the attention and I like giving it to him.
DAY TWO
9 a.m. I fell asleep thinking of him and wake up thinking of him. But honestly, I don't only sit around waiting for him. I have a full-time job and college-age kids to tend to — both roles keep me very busy.
11:2o a.m. I know that, sooner or later, he'll replace me with a younger model, so my motto is "keep it light and sexy" as much as possible and ix-nay on the brooding. Much more fun to visualize what's headed my way …
5 p.m. Right now, I'm thinking ahead 24 hours to him coming through my door, me fixing him his usual cocktail, him going through my fridge, and, when he's put the day behind him, collapsing on my bed … I can't wait to see what porn he's going to spring on me, too, and for him to whisper another one — or three — of his crazy fantasies in my ear.
8 p.m. COO always says he wants to "fuck me the night after I've been fucked." I'm sure I could arrange that … there are some others in the mix from the internet. I really don't know if I'm capable of that, but my guess is that if I keep hanging around this crazy motherfucker, I'll find out.
DAY THREE
8 a.m. Big day for the Chief Orgasm Officer and me: He finally made good on his promise to take me flying.
1 p.m. He was all business when I first picked him up — no kiss or any indication that he felt happy to see me — which left me feeling a little disappointed. I shrugged it off as him being nervous to take me flying.
2 p.m. He snapped out of detached mode as soon as we hopped on the plane and I started to relax, too. His attentiveness and assurance from takeoff to landing — and especially when he surprised me by letting me try steering for a little — felt so good. If I wasn't fighting minor waves of nausea, I could have stayed on that plane with him for the whole afternoon. Guys just don't get how fucking hot they are when they show a little tenderness while maintaining their masculinity.
6 p.m. It didn't take us long to crawl in my bed, where we watched two of the sexiest threesome porn videos I've ever seen, and, to his thrill, one that I'd picked out on my own a few mornings earlier. I had two intense orgasms, which also pleased him. He's the only guy I've ever watched porn with, and I'm like a kid in a candy store, discovering new flavors all around me.
9 p.m. We go again. I can tell how much he likes lying next to me, touching me while I touch myself, anticipating the point in the video where he thinks an orgasm will creep up on me. He asked me which girl I was imagining myself to be. He thought it was so hot that I knew the answer.
11 p.m. He had to go back to his hotel.
DAY FOUR
5 a.m. COO had me texting him in his hotel room until the wee hours. Then, kind of adorable, he asked for a wake-up call at 5 a.m. since his phone died and he lost his charger. He was headed to the airport.
7:50 a.m. Him: "I need an orgasm bad right now. Mind has been crazy."
Me: "Poor guy! I'm sure your mind is busy right now."
Him: "Only busy with naughty thoughts."
6:10 p.m. Stop the presses! The COO floated a couple of sweet texts my way. He was MIA since morning.
Him: "Fuck 'em."
Me: "Have you been drinking?"
Him: "Drinking? Yes. Lots."
10:58 p.m. A million more texts basically all about him being pissed at work and various fantasies of me getting off.
DAY FIVE
12:15 a.m. Neither of us can sleep, and so begins a video link exchange.
1 a.m. We watch three videos simultaneously. He kept telling me that I couldn't come. I was begging him to say it was okay.
1:30 a.m. We both came. I could hear the week's stress falling away from him and the fatigue settling in. It's a pattern I know well at this point, and no matter how tired I am, or what stress I'm feeling, the fascination that I have for his brain and sexual drive takes over and pulls me in.
Anyone who doesn't view the brain as an aphrodisiac is missing out. Everything I desire about my guy begins and ends with his brain. He is brilliant and crazy, dedicated to his job to a degree that I've not known before. And dedicated to his son. And apparently, to the idea of me getting fucked by another guy while he watches.
9:56 a.m. Our dirty texting continues for an hour. And then the sound of the Skype ring … and my handsome COO.
I remember the first time I was brave enough to turn my camera on — after he'd let me watch him several times — but needed about four shots of tequila and John Mayer in the background to stop worrying about how I looked. If I can point to one night where he showed a little romantic agility, it was that first Skype night. Thinking about it now, I know that when he finally moves on from me, I will get a little sad remembering that night.
1 p.m. As always, our Skype time is awesome. Chief Orgasm Officer has no clue how handsome he is, or how sweet he can be when he tries just a little. It is so easy to get lost in his naughty world. I used to be really shy and nervous about dropping my inhibitions and letting myself have a video orgasm in front of him … I am so far from the girl he met in January.
DAY SIX
9 a.m. The usual post-coffee, pre-work "you are so hot" and "my panties are so wet" sexts.
2:33 p.m. He's going on and on about how sexy it is that I've shared some of my dirtier pics with other guys online. The idea of other men getting off to me is his ultimate turn-on.
4:26 p.m. Him: "An orgasm and then a run in 98 degrees. Holy fuck."
9:25 p.m. Him: "Crawling into bed and incredibly still very horny."
Me: "I'm starting to notice that you are extra aroused and desirous after a consuming workweek. #payingattention."
Etc, etc.
10 p.m. We veer into a discussion about our Swing Life Style page and the new profile I made for us. We keep saying we are going to "get serious" about finding a stranger guy and girl to possibly help us bring our fantasies to life. Unless he's going to be here for a full week at least, and really, a weekend, I can't see it happening. After all these months of hearing him get turned on thinking about it, though, I am more in than out.
10:29 p.m. More texts from him like this! "Looking at your pics, and just thinking about everyone who wants to fuck you and how bad. How many times they have come to your pics … or while fucking their GFs …"
10:40 p.m. I tell him that I'm so glad he's unwinding with exercise and orgasms, and I mean it. I just don't want him having them with anyone else. His response? "I swear on all things important to me, you're the ONLY one I have them to and with." Hmmm …
DAY SEVEN      
2 p.m. I  drove to a little beach getaway. The long drive knocked me around a little physically and emotionally (a combination of driving and seaside strolling; always gets the mind meandering and questioning).
3 p.m. Weekend communication is unpredictable with the Chief Orgasm Officer. To get things going, I remind him that someone else online wanted to meet up with me this weekend. This makes COO go mentally and physically crazy.
8:19 p.m. We start texting about the real possibility of bringing a third into the mix … about who this third person might be and what would really happen if it were another man or a woman. We have boundaries, even within our texts. His understanding of my emotional/mental limits plays a crucial role in our dynamics.
Me: "I need to know exactly what to expect : - ). What the 'rules' are …"
Him: "I'm going to fucking explode huge."
10 p.m. I've been thankful every day since realizing that I'm pretty and sensual enough — at my age and after five kids — to please his eyes, and continually capture his attention.
I go to sleep excited for more of him tomorrow.
Want to submit a sex diary? Email sexdiaries@nymag.com and tell us a little about yourself.