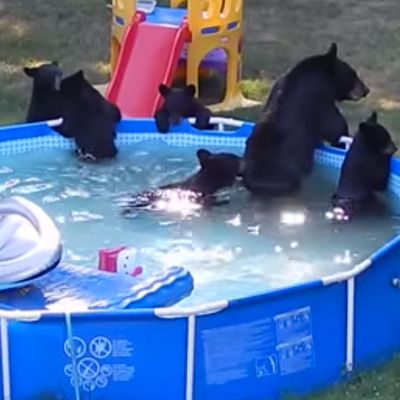 If days are made of hours and hours are made of minutes then every second of this week was a freakin' eternity. Here, take these good things.
1. The White House hired its first openly transgender staffer. Raffi Freedman-Gurspan started on Monday in the role as an outreach and recruitment director in the Office of Personnel, making her the first openly transgender person to work at the White House.
2. A baby got to play with her best cat friend. The cat doesn't seem that into it, but the baby definitely is.
3. Dental-school volunteers traveled to Turkey to help fulfill the mission of the Chapel Hill shooting victims. Two students at the UNC School of Dentistry had planned to take a trip to Turkey to provide free dental care to Syrian refugees before they were brutally murdered in February. This summer, 50 of their fellow students decided to take the trip in order to honor the married couple, Deah and Yusor Barakat, and subsequently provided free dental work to nearly 800 people.
4. The toddler obsessed with personal-injury lawyer Morris Bart finally got to meet his idol. Dreams do come true.
5. An 87-year-old woman finally received her college degree after a 65-year hiatus. Eleanor "Jean" Kopp graduated from the University of Nebraska-Lincoln last weekend with a degree in individualized studies after deciding to take her studies back up when her husband died in 2011. With a slice of her bangs dyed bright purple, she fit right in with her fellow classmates.
6. A high school adopted a local stray cat and gave him his own student ID badge. Bubba the cat is officially a student at San Diego's Leland High School. Hopefully he doesn't get suspended for using the football field as a litter box.
7. Malala Yousafzai got straight A's on her latest report card. The Nobel Peace Prize winner's father took to Twitter this week to announce she'd earned six A+'s and four A's in her schoolwork at Edgbaston High School in the U.K, continuing to make the rest of us look bad.
8. A bear family took a casual swim in a New Jersey pool. The mama bear and her five cubs climbed into an above-ground pool in New Jersey on Tuesday and proceeded to have an impromptu pool party.