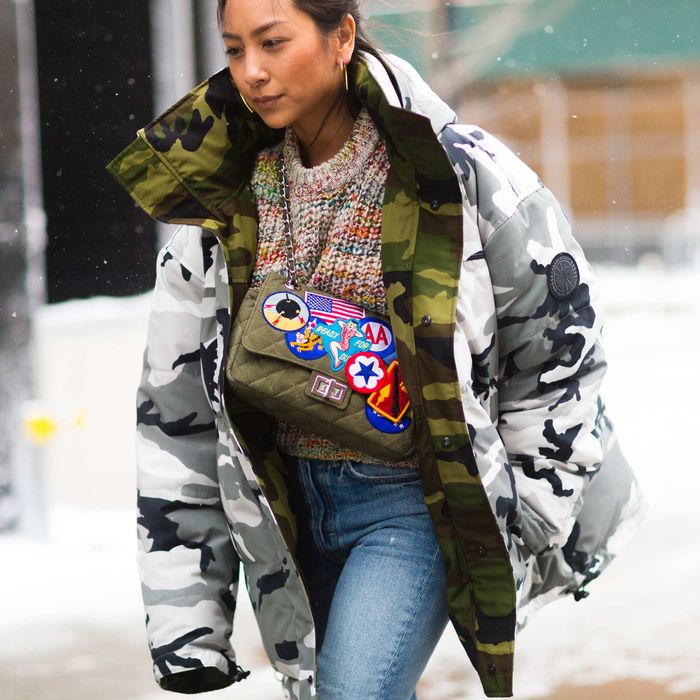 Can you believe that it's almost the end of September? Sure, it's currently a balmy 85 degrees in New York City, but the sun is going down earlier each night. Before you know it, it's going to be winter — and you're going to need cold-weather gear.
But wait! you say. Wasn't last year a huge bust? Sure, there was record warmth, but that doesn't mean this year will be as pleasant. Don't wait for those first flakes to fall before you run to your computer in a panic. This is prime time to get everything you need to ensure you won't be trudging through a snowbank in leaky boots, cursing yourself with every step.
A Chic Coat That Will Actually Keep You Warm
Yes, a Canada Goose coat can cost you close to $1,000, but if it's good enough for expeditions to Antarctica, it can handle the return of another polar vortex.
Winter Boots That Aren't Hideous
Do you require the boot equivalent of a sleeping bag? This black style from Ugg is warm, waterproof, and sleek enough that it won't ruin your outfit.
Extra Layers for Extra Warmth
Layers do not always guarantee warmth — but these Heattech leggings do. In fact, it's not a bad idea to get the matching camisole, T-shirt, and turtleneck to slip under sweaters.
Sadly, you can't wear a puffy coat everywhere. When the occasion calls for a nice wool coat but it's freezing outside, add a thin down jacket underneath for puffer-like warmth.
On chilly, rainy days, your snow boots will be too bulky. Instead go for thick socks and waterproof boots to keep your feet just as warm and dry.
Each product featured is independently selected, but may include paid promotion or additional compensation from our partners.