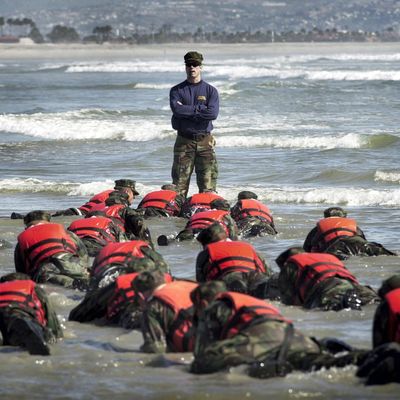 A Navy SEAL training course on April 15, 2003 in Coronado, California.
Photo: Photographer's Mate 2nd Class Eric S. Logsdon/U.S. Navy via Getty Images
Later this week, two women will become the first female graduates of the elite Army Ranger School, and on Tuesday, Admiral Jonathan Greenert, the chief of naval operations, said the Navy is preparing to allow women to serve on SEAL teams for the first time. "Why shouldn't anybody who can meet these [standards] be accepted? And the answer is, there is no reason," Greenert told Defense News. "So we're on a track to say, 'Hey look, anybody who can meet the gender non-specific standards, then you can become a SEAL.'"
More positions have been opening up for women throughout the military since the Pentagon announced two years ago that it will lift the ban on women serving in combat roles. Military services have until the end of the year to come up with a reason why particular positions should remain closed to women. After conducting a review, Rear Admiral Brian Losey, head of Naval Special Warfare Command, recommended that women be allowed to become SEALs.
It may still be some time before we see a woman join the SEALs. The six-month training program is brutal, and as the Navy Times notes, there aren't currently many women in the Navy's special operations forces: "Out of an end strength of 1,153, there are only seven female Navy divers — just .61 percent of the force. And there are only 10 women in the Explosive Ordnance Disposal community of the 1,094 total enlisted sailors."