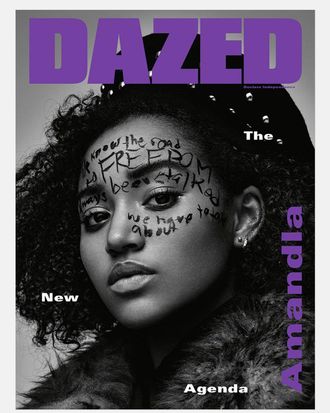 Last week, we shared the covers for the forthcoming Dazed and Confused autumn issues — starring models Lineisy Montero and Molly Bair — with the promise of two more to come. Dazed, God bless, has now delivered the additional covers of its "New Agenda" issue starring  Amandla Stenberg and Young Thug. Stenberg, unsurprisingly, makes for a great voice in a series of stories that editor-in-chief Isabella Burley described as "re-addressing what print stands for today." 
From taking on cultural appropriation to attempting to educate Kylie Jenner, Stenberg, who is only 16, is fearlessly outspoken on what she'd like to accomplish with her time on earth: "I want to make things that have an impact on how we look at the world," she says. "I know it's a tall glass to fill, but it's a glass that really does need to be filled, as an African American woman."
On the cover of the mag, Stenberg is seen with the empowering words of Angela Davis written across her face, and one has to wonder what we'd all be like if we were that aware as teenagers. Stenberg even has some thoughts on her young age, which many are quick to dismiss:
"I think people discredit teenagers and how wise they can be," says Stenberg. "Sometimes I meet teenagers who are much wiser than many adults I've met, because they haven't let any insecurities or doubts about themselves get in the way of their thoughts."
What's next for Stenberg? Two indie films, finishing high school, and perhaps film school at NYU, where the ingenue hopes to study under Spike Lee. Oh, and hanging out with new friend Willow Smith, whom she met because the two had been having dreams about each other.