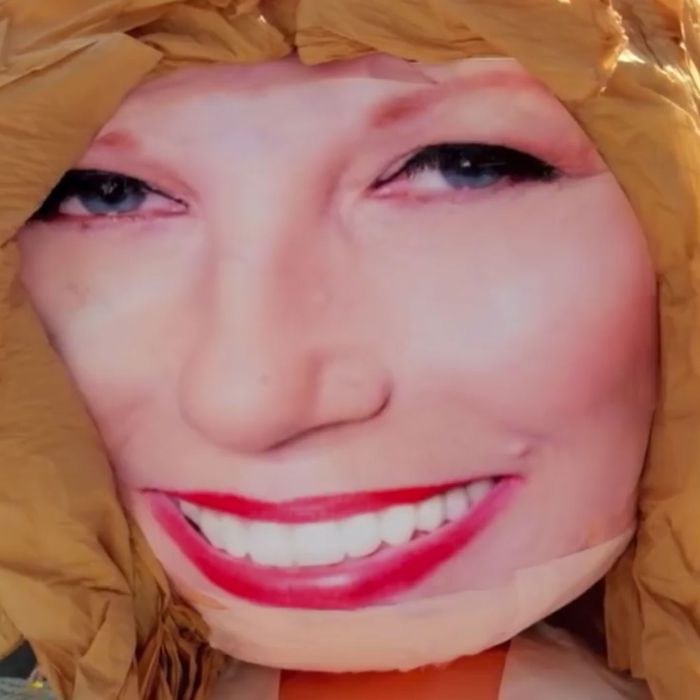 Photo: Save American Apparel via Youtube
Well, that escalated quickly. After reports that American Apparel could be going out of business due to financial troubles, a group of its workers took out their ire on a piñata in the image of CEO Paula Schneider in front of the company's L.A. headquarters last week. (A video of the incident was posted here, with a notation that, "In Mexico, the piñata has a long tradition of being used as a prop for political commentary [on] unpopular public figures.") The protest was meant to draw attention to recent firings of workers, allegedly because they had been trying to unionize; according to the L.A. Business Journal, one group, the General Brotherhood of Workers of American Apparel, registered with the U.S. Department of Labor last month.
Responded Schneider in a company memo obtained by BuzzFeed News, "Many of you have reached out to me to express your dismay over the demonstration held out in front of our corporate HQ yesterday that included violently beating a Piñata in my likeness. I'm sorry this happened and I thank you for your support and kindness." She characterized the protests as having been carried out by "a small group that support these intimidation tactics … Let me be clear: I believe in the right to free speech, but not violence in any form." In her memo, she maintains that the firings were triggered by the workers in question harassing her and other employees.
Schneider was appointed with much fanfare, including profiles in Elle and Marie Claire, and a mandate to turn the company around with positive messages and a renewed focus on social responsibility. Still, the protesters seen here seem to be nostalgic for their ex-CEO, with T-shirts that say, "I Heart Dov," and signs that read, "Dov Wouldn't Let This Happen To Us."
We've reached out to a rep for the company and will update this when we hear back.