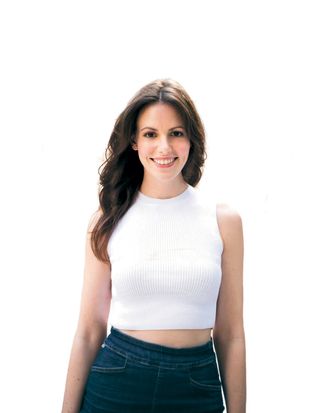 Photo: Kathleen Kamphausen
Amy Odell's Tales From the Back Row: An Outsider's View From Inside the Fashion Industry will be on sale September 1. We spoke with the author (and veteran editor of the Cut) on the eve of her first book release about being the editor of Cosmopolitan.com, having a strong work ethic, misconceptions in fashion coverage, and more.
Stella: We are all really happy for you about your book — plus, there are lots of great mentions in it of the Cut and Diana Tsui! You and I overlapped for about six months, just before you went to BuzzFeed, and I remember working with you on a few of the things you wrote about in the book. Let's talk a bit about your early days here.
Amy: Yeah. Even before the Cut existed, New York would run a Fashion Week blog, and the Fug Girls would come in and write a bunch of funny stuff, and I was a party reporter going to shows. It was a 24/7 operation, covering fashion shows.
Stella: Doesn't it seem like in the past few years, Fashion Week has gone back to being more sedate? When you first started, there were all of these really insane things going on — reality shows spawning runway shows, for example.
Amy: I miss that. I write a bit in the book about going to Whitney Port's first fashion show, and how it was the biggest deal. I don't think that would be the case anymore.
Stella: Remember when Kimora Lee was having a moment?
Amy: I was actually telling someone recently about how the Baby Phat show was hard to get into. I remember covering a party she had — and this was pre-recession, when there were these lavish events — she had this fancy, gaudy party, and I was stuck on the red carpet. But the great thing about working for New York Magazine is that a lot of people want to talk to you. And I remember standing there interviewing people, and I noticed that her name was misspelled on the step-and-repeat. I asked her party planner about attention to detail, and he gave me some great sound bites. And then she came down the carpet and gave me some great quotes. And at the very last minute, I asked her about her name being misspelled right behind her.

Stella: What I loved back then was how your outsider status allowed you to see things that people who are too enmeshed in the fashion world couldn't see, or didn't find funny.
Amy: There were times — I mention this in the book — where I would get "ban letters," where brands would threaten to ban me from seeing shows because they didn't like what I had published. Even when the things we had written were taken from other major outlets. And that's not what you want to happen. You want to go to the shows and cover them. But I think the great thing about New York Magazine and the Cut is that it strives to be honest and present a different perspective. But there's so much more to consume now if you want to read about fashion news. There's Business of Fashion, Fashionista, the Cut.
Stella: Yes. Everybody has caught on to this method of covering Fashion Week like a political convention, in real time. Social media didn't really exist when you started. Now you get that level of coverage from Twitter and Instagram and Snapchat, and so, in a way, after several years of covering Fashion Week, we have to go the opposite direction. We need to distill the information for readers. Which brings me to the way the whole internet has grown up since you started. Even in the four or so years since I came to the Cut, the expectations for "online" journalism have totally erupted.  
Amy: Absolutely, you can see the shift as an editor and a reporter in the way that publicists perceive outlets. People are much more receptive to online coverage. Excited about it, actually! Because you can reach so many people. Online, you can do a video, a Snapchat, so many different things with a subject. It's cool to see people get excited about that.
Stella: Readers have higher expectations for stories now.
Amy: Yeah. The thing that's really changed with social media becoming so huge, is how when I first started blogging, people would actually type in thecut.com and go to the feed, and now people see things on Facebook, quite often on their phones, looking for things to read. So you have to work much harder to bring people into the experience.
Stella: Yes, and people are reading long stories on their phones. Even when you have a subscription to the magazine.
Amy: The only time I don't read things on my phone or my iPad is when I'm at the beach and it's too hot to have a device in the sun.
Stella: After you left the Cut, it went through a big shift toward something more than fashion. At first, it was hard for some people to wrap their minds around the idea that women could be interested in both fashion and politics, art, culture, and sex. Now that seems ridiculous. How do you deal with that at Cosmo?
Amy: Of course women are going to be interested in reading about politics and celebrities and style in the same 15 minutes. And you should appeal to those sensibilities. It's unfortunate that we have to talk about this so much when it's about women, but when it comes to men, they can have politics and steak recipes and sports statistics in one feed, and it's not a question of "Does this all go together?"
Stella: I like to think of the Cut as a psycho-graphic, not a demographic. We can publish a piece on campus sexual assault or a piece on menopause, and each will find their audience and start conversations.
Amy: We see similar behavior on Cosmo.
Stella: Let's talk a little about work-life balance.
Amy: I often get asked about this by young, aspiring writers and editors when I give talks.
Stella: And what do you tell them?
Amy: I'm honest with them. I work really hard, all the time, and I probably don't have a great work-life balance. And that's where I am in my life right now. And that could change in five years. But I think that with anything that you do, you have to work really, really hard at it. And don't believe that anything will fall into your lap. Like, I'm talking to you about my book because I pursued it. Nothing ever fell into my lap.
Stella: Do you think people think that? That this book opportunity just fell into your lap?
Amy: No, I don't think people think that when they meet me, but women often think that luck had something to do with their success, probably more so than men, and I don't think that at all. I've thought, since I was in college, that if I wanted to work in journalism, I would have to work really hard. If you want something to be successful, you have to work at it quite methodically.
Stella: How do you manage your team?
Amy: Being a manager is not just about working with your team but managing the people who work parallel to you, or above you. You have to spend as much time doing that stuff as writing and editing stories. I end up pulling more hours. I'll go home at night and read everything I didn't have time to read. I'll come up with ideas, email my team late at night. I mean, you know the pace of online news. It's unrelenting.
Stella: Sure is. So, what's been the most satisfying thing about writing a book?
Amy: To be honest, it's so much work to write a book. Writing and incorporating the edits for your book is only about 50 percent of the process. The rest of it is promoting it. You have to promote on social media, you have to do interviews, place excerpts. And that can be a lot of work. You have the support of your publisher, but you have to do a lot of the work, too. I reached out to a lot of my friends, including you, to see if people would cover the book, and I'm fortunate that a lot of people are covering it. You can't just sit around waiting for people to call you. You have to plant the seed.
Stella: But even with all the work, you'd still want to do it again?
Amy: Yes, I really liked writing it. The stuff that's in the book is not necessarily stuff I would put on the internet. Writing for print and web are different. Each format lends itself to different kinds of experiences. There are certain lists, for example, that you would put online that wouldn't make as much sense in a magazine. But for the book, I had time to really reflect on themes I wanted to address. I just wouldn't have taken that amount of space to flesh out certain anecdotes in any other outlet.
Stella: What is the central theme of your book?
Amy: I think a lot of young women are going to pick up this book, and I want them to know there's a lot of misunderstanding around fashion and how it operates. A lot of women might look at a runway show or fashion imagery and not quite understand what is going on. The book is a celebration of fashion. It's a unique take on it, but it's not mean. Because I think fashion is really fun, and I really liked covering it. I still like covering it.
Stella: Are you worried that people will think it's mean, or that you have a reputation for meanness?
Amy: I think some PR people thought I was snarky. And perhaps I was. But that's what the internet was in 2008, 2009. That's what people wanted, and it's different now.
Stella: What are you most proud of in the book?
Amy: I'm proud that it's done. People say that it's funny. I don't read my stuff and think that it's funny, but the feedback I've gotten is that it's funny. And I think that's really hard to do, to make people laugh out loud while reading something. You can be so funny in conversation. You can be the funny one in your friend group and still not be able to write something funny. I hope that people find it funny!
Stella: Yes, it's an underrated talent, especially in fashion.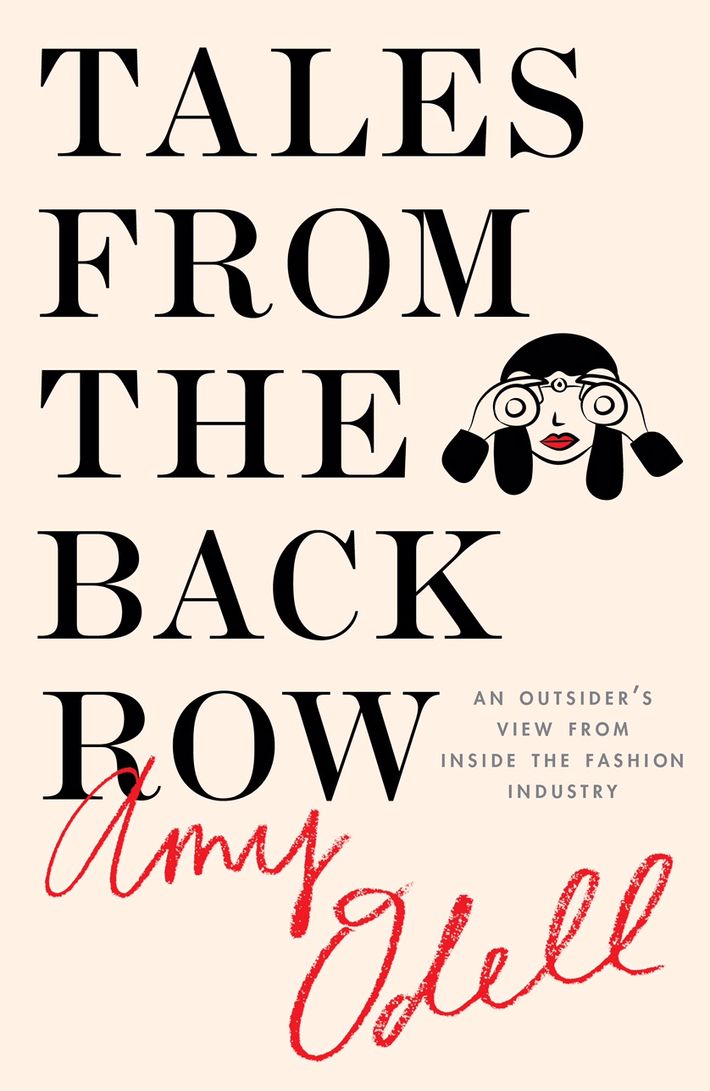 This interview has been edited and condensed.