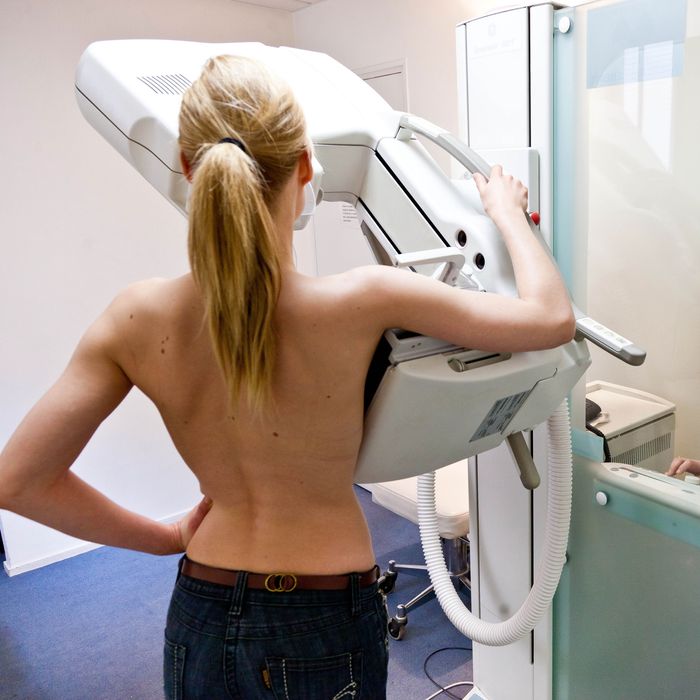 Photo: VOISIN/PHANIE/Corbis
Oncologists are questioning whether women with Stage 0 breast cancer are being treated too aggressively following a study published yesterday. Experts have long debated whether a condition called ductal carcinoma in situ (D.C.I.S.), which means clusters of abnormal cells in the milk ducts, is a precursor to breast cancer or simply a risk factor for the disease. As medical imaging improves, women and their doctors are increasingly facing this question: D.C.I.S. now accounts for 20 to 25 percent of cancers diagnosed with mammography, or an estimated 60,000 new cases this year.
Some lesions lead to invasive, life-threatening cancer, though the vast majority don't. Most women get treatment, whether that's a lumpectomy (lesion removal) with or without radiation, or a single or double mastectomy. But the new study, published in JAMA Oncology, found that treatment beyond a lumpectomy didn't improve survival rates. Researchers reviewed data on 108,000 women diagnosed with D.C.I.S. and found their overall risk of dying from breast cancer within 20 years was 3.3 percent. (Which isn't much higher than the average woman's risk of 2.7 percent, per the authors of an accompanying editorial.) Importantly, survival rates didn't improve with radiation after a lumpectomy versus a lumpectomy alone, and women who had single or double mastectomies had the same risk of developing invasive breast cancer as women who only had lumpectomies.
The study did identify D.C.I.S. patients with a higher mortality risk than the rest of the group: women diagnosed before 35 and black women. The authors of the editorial note that high-risk cases — which also include lesions that are large or are molecularly similar to certain breast cancers with worse prognoses — account for about 20 percent of diagnoses.
For the other 80 percent of women, they advise against rushing to the operating room and suggest observation, healthier lifestyle habits, and, in some cases, taking breast-cancer drugs like tamoxifen. They wrote: "Given the low breast cancer mortality risk, we should stop telling women that DCIS is an emergency and that they should schedule definitive surgery within 2 weeks of diagnosis."