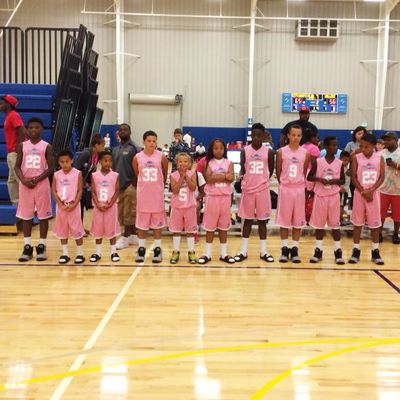 Photo: Jessica Thomas-Johns/Twitter
"No girls allowed:" In addition to being the sign taped to your little brother's bedroom door, it's also a new rule codified by the National Travel Basketball Association, a kids basketball league that recently disqualified a Virginia team for daring to play a girl.
Kymora Johnson's mom signed her up for the all-boys Charlottesville Cavaliers when she was 5 because there were no girls teams at the time. Now 10, Johnson has loved playing for the Cavs, and this year they were good enough to make it to the finals. Unfortunately, the association changed its rules at the beginning of the season to ban girls from playing in the national tournament. Oh, but don't worry, they're still allowed to play in regular season games and scrimmages. And they're like, totally fine to sit on the bench.
"We have no problem with the girls sitting on the bench," the president of the National Travel Basketball Association said. "We don't care who sits on the bench with the teams, that goes for anybody … to sit on the bench." How kind.
Johnson's team was disqualified from the finals simply because she was on the team roster. When she begged the powers that be to let her team play without her, they refused.
Though the Cavs weren't able to convince the association to let them play, they did show up to the game they were supposed to play in wearing light-pink jerseys in support of Johnson and girls everywhere who want to play basketball.
"You have to fight for your freedom," Johnson told the Washington Post. "You have to fight for the right to do it."