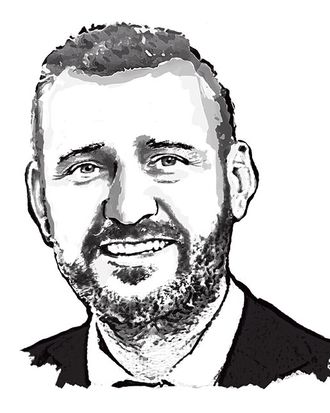 "If you don't know what's hot, you're not paying attention."
Photo: Murphy Lippincott
Richard Parrott, the beauty-industry veteran and president of accessories superstore Ricky's NYC, is a 42-year-old dad who happens to be really, really good at Instagram stalking. On August 15, he opened # (pronounced "hashtag") in Soho, selling the beauty products from about 20 different brands that he discovered through the app.
How did the concept come about?
The store is a result of our search for products through Instagram as opposed to through Google or Bing. When you search "hot makeup" or "best makeup brush" on a search engine, you're going to be shown what the algorithm is programmed to show you, whether someone paid for it or it has the most unique content. I started finding out who's talking about what by searching through social media. It's a bit more believable because it's real people talking about real products that actually work. That's the beauty of the information age: Everything is at your fingertips. If you don't know what's hot, you're not paying attention.
What's your search process?  
I open Instagram in the morning and fall down the rabbit hole. Say I'm following NYX Cosmetics, and they post a picture of a girl wearing incredible lipstick. If the caption says, "Thanks to so-and-so …," I'll click on that person. Then I start looking through their posts and find a picture of a lipstick that's even better than the one they posted of NYX. I click on that one and see who liked it and just keep going. You click through ten different people and 20 different comments until you're like, What is this brand? I've never even heard of them! That's when we reach out.
So what makes a successful Instabrand?
The key word is education because what people are looking for is real knowledge of the product. Dose of Colors is probably the most successful Instabrand. The founder, @MakeupbyAnna, who's the driving force behind the brand, has 1.5 million followers, and when she puts on a look and says, "This is what I'm using and how I'm using it," people respond. She'll educate the regular consumer in the Midwest who has never even thought about dabbling in a blue-matte lipstick by telling them how to use it and what products create the look. When the regular consumer sees that, tries it, and actually gets the same result, that translates to loyalty.
Is it safe to say you'll be carrying many Kardashian-endorsed products? 
Yeah. One example is this self-tanner called Cocoa Brown ($14) out of Ireland. I was already carrying it in Ricky's before Kylie Jenner posted about it, and I vaguely remember the owner telling me she had some sort of connection to the Kardashians' PR. Maybe that person gave the tanner to Kylie, who then used it and liked it. She posted a really realistic picture of herself in a bikini with Cocoa Brown off to the side with a caption like, "This is my favorite self-tanner." They definitely didn't give her a million dollars to do that, and people respond differently when it's real. After that picture, I sold out of everything I had.
And what's your handle?
I'm @RPNYC. It's a blast. My social media use is evolving at the same time as Ricky's, which is why I'm having so much fun with it. I'm not just growing myself. I'm growing the business.
# is open at 489 Broadway, near Broome St.
This interview has been condensed and edited. A version of it appears in the August 24, 2015 issue of New York Magazine.