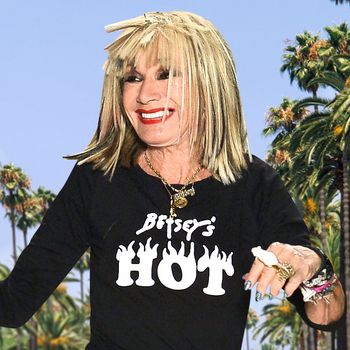 Was it this winter's snowpocalypse? All those trend articles about moving West? The promise of better avocados? Betsey Johnson, a New Yorker for more than 50 years, is packing it up and moving to Malibu, she tells Paper. (She's headed there to spend more time with her grandchildren, but plans to split her time between coasts.) And, if we may use a West Coast coinage, she sounds stoked. "The Malibu market has more fucking fashion and uniqueness and health and grooviness," she tells the magazine. "It's a very inspiring place. I'm buying a Mini Cooper. I never want to go on the highway, [although] I'll go on the PCH because it's straight and I know where to go. To be honest, I hate California, and I do not like the earthquakes. Malibu is strange. A couple of old surfer dudes looked at me, and I looked back at them and thought, Wow. This is the first time that I've had any communication with a man outside of being 'Betsey Johnson' in New York City."
It sounds like Johnson will be swimming in suitors in no time. She tells the magazine that Tinder is not for her, and that "I was going to do the matchmaker thing but she wanted $250,000 with no guarantee." She usually dates "musicians or cooks or something completely out of left field so that they don't remind me of my work."
She also shares this very special, velvet-laden encounter with the Purple One:
Prince came in the store years ago with his bodyguard, and I was standing on top of a ladder while he picked 10 things. He picked the purple and the velvets and the chiffons and everything that I would have picked for him. Boom, boom, boom. I came down from the ladder and said, "I love you, Prince! I love you!" He said, "I love you. Keep on doing what you're doing."
Same to you, Betsey. Same to you.