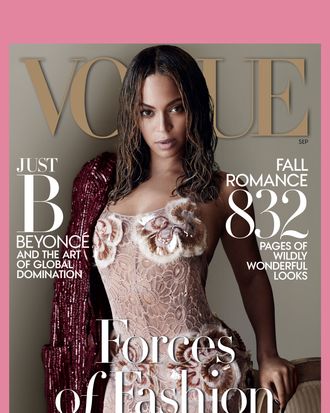 Photo: VOGUE/Mario Testino
Last night, the Beygency successfully pulled off its latest operation: leaking Beyoncé's September Vogue cover on Twitter. After the image made the rounds on social media (with the requisite cries of "iconic" and "flawless"), the magazine officially posted her Mario Testino–lensed cover, along with a barrage of other Bey-related content (including a puzzling video clip set to the strains of "Autumn Leaves" and an interview with the star's "wardrobe curator").
It marks the second consecutive Vogue cover on which the subject wore Marc Jacobs, after Nicole Kidman in August — Anna must have really cottoned to that Diana Vreeland–themed show. The star accessorized with wet-look hair and what looks to be an 18th-century booty rest.