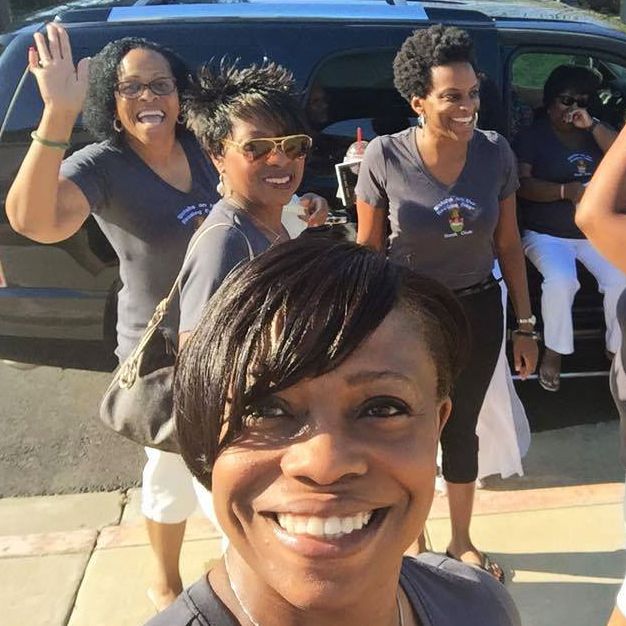 From Lisa Johnson's Facebook page.
Photo: Lisa Renee Johnson/Facebook
SFGate reports that a book club of 11 black women and one white woman was escorted off the Napa Valley Wine Train on Saturday afternoon for "laughing and talking too loud." Lisa Johnson, one of the group, turned to social media to tell the story and call out the Wine Train crew.
Johnson posted the following on Facebook on Saturday:
Facebook Family, we have a problem!
We sipped wine, enjoyed each other's company but our trip is being cut short…this woman said our laughter annoyed her because this is "not a bar"… We are a group of 12…if we all laugh at the same time it's loud! When we get to St. Helena they are putting us off the train.
Johnson says that at St. Helena, the group was paraded through the entire train before being escorted off, and upon exiting the train, law enforcement officers were waiting for them.
At the station, the group was met by officers from the Napa Valley Railroad and St. Helena police departments.

"People were looking at us," Johnson said. "To get escorted into the hands of waiting police officers. That's the humiliating part."
There were no arrests made and a van was sent to pick the women up. The group was given a refund and Johnson says she was ready to let the incident go, until a post on the Napa Valley Wine Train Facebook arrived, saying:
"Following verbal and physical abuse toward other guests and staff, it was necessary to get our police involved. Many groups come on board and celebrate. When those celebrations impact our other guests, we do intervene."
The post has since been deleted, but the saga continued. Johnson is demanding an apology from the company, saying she believed the incident was a "racist attack on us" and that she'd like "a public apology for the humiliations they caused to us as professional women." In the wake of the incident, #LaughingWhileBlack has begun trending on Twitter, and in one Yelp review, a woman claims other patrons of the Wine Train were acting exactly the same, but were left to do as they pleased. 
As of Monday morning, Kira Devitt, a spokesperson for the Napa Valley Wine Train, said they'll be "conducting an internal audit to make sure all of our policies were followed and options were offered."