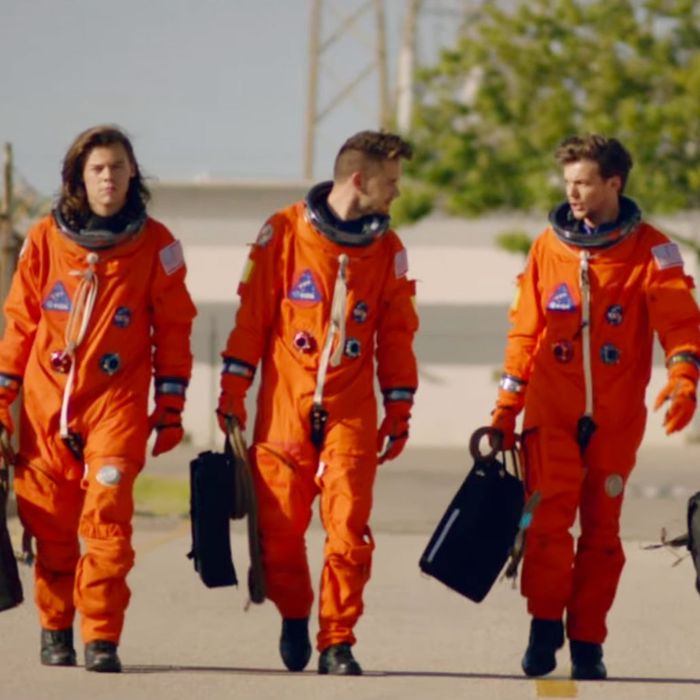 Who isn't obsessed with space? Artists and creative types certainly are. Van Gogh painted The Starry Night. Juliet hoped that when Romeo died, someone would "take him and cut him out into stars" so that he could "make the face of heaven so fine that all the world will be in love with night." Timon and Pumbaa educated Simba on the "fireflies stuck in that big, blueish-black thing." Tom Hanks made Apollo 13. But no one has paid more homage to the great beyond than pop music makers — perhaps because they are, after all, stars. (Sorry.)
Last night, One Direction released the music video for their new single, "Drag Me Down." (Side note: Boys, what's with the midnight drops? It's like you don't want us to sleep or something.) It features the foursome — remember, they're now one hottie short — bopping around shuttle hangars at the NASA Space Center in Houston, Texas, and prepping to be launched into space.
But they are far from the first group to explore interplanetary travel. Even before MTV started awarding music videos with its kicky little Moon Man statue,  space missions featured heavily in the format. One of the first instances was the Carpenters'$2 1977 cover of Klaatu's "Calling Occupants of Interplanetary Craft." The sincere graphics are a reminder the first moon landing was only eight years previous.
Michael Jackson was always obsessed with space. Here he is at Space Mountain — having decidedly more fun than Ben Affleck, we might add. And the video for "Scream," his 1995 duet with his sister Janet, is still amazing to watch today.
The Spice Girls invited aliens to their concert at the Royal Albert Hall in Spice World, the extremely factual and not at all ridiculous 1997 movie that followed the girls as Meatloaf (yes, that Meatloaf) drove them around London in the double-decker bus of your dreams.
Not only did we as a society think it plausible that Will Smith could unironically rap about fighting aliens in 1998, we thought he could do it so well that the song won a Grammy. Let that sink in.
And then, also in 1998, there was Armageddon.
Oops! In 2000, Britney Spears did it again — but this time, she did it in space, and tossed aside the Heart of the Ocean, the necklace that was a major plot point in Titanic. Even though she thought "the old lady dropped it into the ocean at the end." Well, baby, he went down and got it for you. Aren't pop-culture references fun?
In 2003, the Darkness believed in a thing called love — and space. And apparently looking like a pink-haired version of Botticelli's The Birth of Venus in space, but hey, the influence of art knows no bounds.
Here, enjoy this Katy Perry music video from 2010 in which Kanye West manages to connect the concept of being a "big-headed astronaut" to the feat of getting "ass a lot." How does he do it?
Not to be left out of the theme, Weezer also performed on the moon in 2014. Weirdly, this is probably the music video that makes the most sense. Why wouldn't Weezer be on the moon? Exactly.
Strangely, Alabama Shakes' video for "Sound & Color" (2015) is the only one that addresses what people eat in space. Spoiler alert: It's a lot of powder. It doesn't seem like there's much chewing involved. Maybe going to space isn't so fun after all.
Welcome to your brave new world as a foursome, One Direction. You truly are out of this world.
Research notes: While Brit's then-boyfriend Justin Timberlake and the merry boy band to which he belonged never went to space in a video, they did have a song about being space cowboys that featured Lisa "Left-Eye" Lopes. And Lance Bass famously wanted to visit space, but that dream was soon dashed. 
'N Sync rivals Backstreet Boys hung out in a hangar but it was an airplane hangar and does not count. Nor does Blink-182's parody of that video, or 2ge+her's version. These things are important. Our pop stars should take space travel seriously.