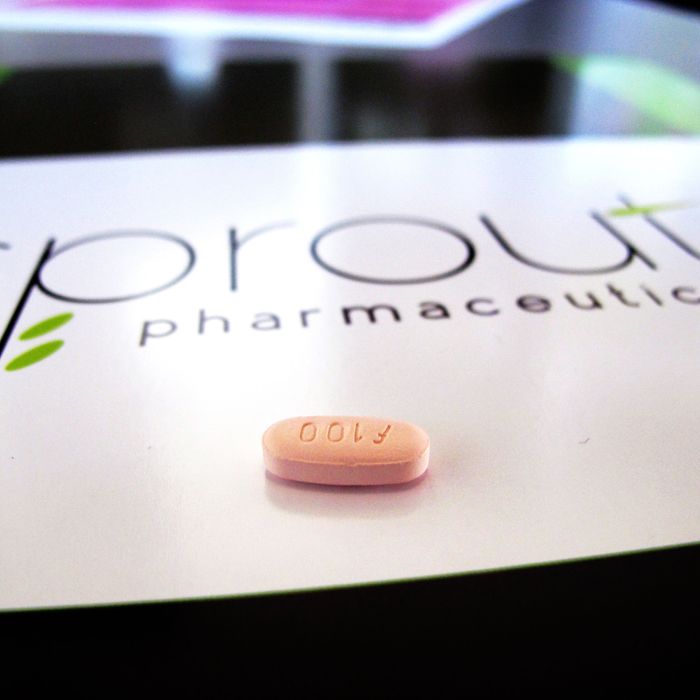 Photo: Allen Breed/Corbis
The FDA announced today that it approved female sexual-dysfunction drug flibanserin, brand name Addyi. It's a decision that comes amid controversy: Lobbyists have decried sexism, and doctors have remained split over whether the medication is a much-needed advance for women's health or an ineffective treatment for low sex drive in premenopausal women, which isn't considered a medical condition on its own.
Sprout Pharmaceuticals bought the drug after its second FDA rejection in 2013 and supported a marketing campaign called Even the Score, which included a change.org petition and letters to the FDA from at least 11 members of Congress, suggesting that gender bias is the reason we don't have a sexual-dysfunction drug for women.
Yet the FDA-approved drugs for men treat impotence and other mechanical problems; none are for low sexual desire. Flibanserin is widely referred to as "female Viagra," but the drugs couldn't be more different, as Melissa Dahl explained on Science of Us in June. Flibanserin, which was originally developed as an antidepressant, is intended to treat hypoactive sexual desire disorder (H.S.D.D.) — that is, low sex drive not explained by a medical problem, mental-health condition, or prescribed medication — by targeting neurotransmitters in the brain that affect libido.
Still, H.S.D.D. was removed from the American Psychiatric Association's diagnostic manual in 2013 and replaced by a combined diagnosis called female sexual interest/arousal disorder (F.S.I.A.D.), which reflects what experts know about the complex interaction between desire and arousal. Women can experience desire in response to arousal and vice versa; the diagnosis of F.S.I.A.D. pertains to women who don't experience either spontaneous or responsive desire and are anxious about it.
The drug had come before an FDA advisory committee in June, which weighed benefits described as "moderate"or "marginal" against potential side effects and voted in favor of suggested approval, with conditions including prescriber training and certification in addition to the standard warning labels. (The FDA doesn't have to follow the advice of the committee but it usually does.) The fact that flibanserin is a daily maintenance medication amplifies concerns about the drug's side effects, which include nausea, fainting, dizziness, and sleepiness as well as possible interactions with alcohol and other medications like hormonal contraceptives.
In terms of its efficacy, studies found that women taking flibanserin rated their desire 0.3 points higher on a 6-point scale compared to women given a placebo, and had about one more "sexually satisfying event" per month. When the FDA accounted for the placebo effect, they found that only 8 to 13 percent of women saw improvements in at least one of the outcomes.
FDA advisory committee member Walid Gellad, M.D., M.P.H., who voted to recommend approval in June, said on Twitter today that the drug should get the agency's stamp because it really will help a small subset of women — but it shouldn't be used beyond that group. Of course, whether doctors stick to the prescribing information once the drug becomes available remains to be seen.