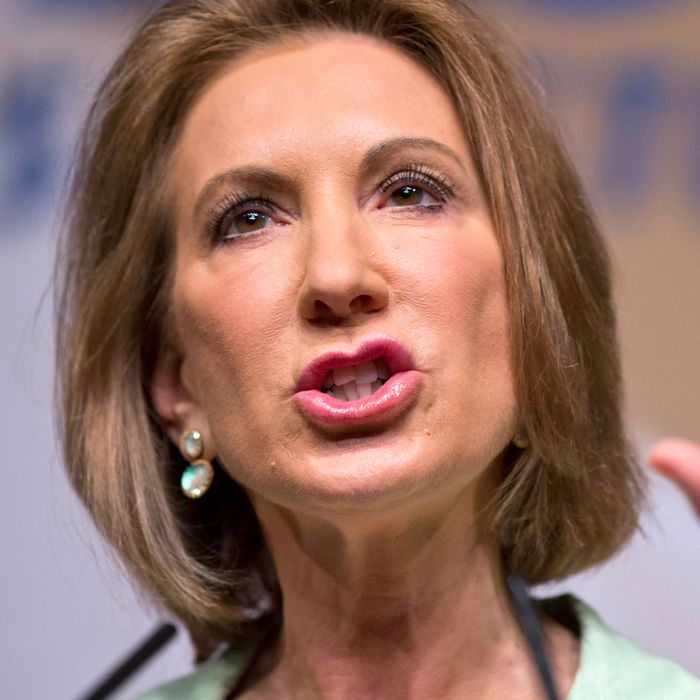 Photo: Manuel Balce Ceneta/Corbis
If the Republicans thought 2016 would be the election where they overcome their "woman problem," Donald Trump has certainly dashed that dream. Carly Fiorina to the rescue! In today's New York Times, a long look at second-tier candidate Carly Fiorina reveals that while the former CEO of HP certainly won't make it as the Republican nominee, she's in a position to challenge Trump on his ridiculousness while still hewing to the party line on abortion and other issues.
The Times points out that Fiorina is willing to go where other candidates won't on Trump's menstrual misstep, telling CNN's Jake Tapper: "I've had lots of men imply that I was unfit for decision-making because maybe I was having my period. So I'll say it, O.K?" The paper goes on to note that "In a crowded Republican field, Fiorina has delivered the most forceful and succinct denunciation of Mr. Trump's comments, which sent a shudder through a party concerned that it would reinforce perceptions that it was increasingly out of touch with female voters."
Not only does Fiorina allow the party to defuse Trump's misogyny, she seems to be the only Republican candidate willing to take direct shots at Hillary Clinton. Other candidates are holding back for now, fearing "repercussions against a man attacking Mrs. Clinton so early and often," while Fiorina has already said that Clinton "'lies about Benghazi' and 'lies about her emails.'"

So, gender is working for the former Hewlett-Packard CEO, in a weird way. But let's not forget where she stands on issues important to women's lives:

Mrs. Fiorina, an adherent of the Silicon Valley meritocracy where she spent most of her career, believes that while employers cannot discriminate based on gender, they should be able to decide how much employees are paid. She is against federally mandated paid maternity leave, a position the Democratic National Committee portrayed as being "worse than the maternity leave policy in war-torn Afghanistan."
Fiorina has also remarked that feminism is a "left-leaning political ideology where women are pitted against men." Interesting choice of words given Fiorina's current position in the GOP.