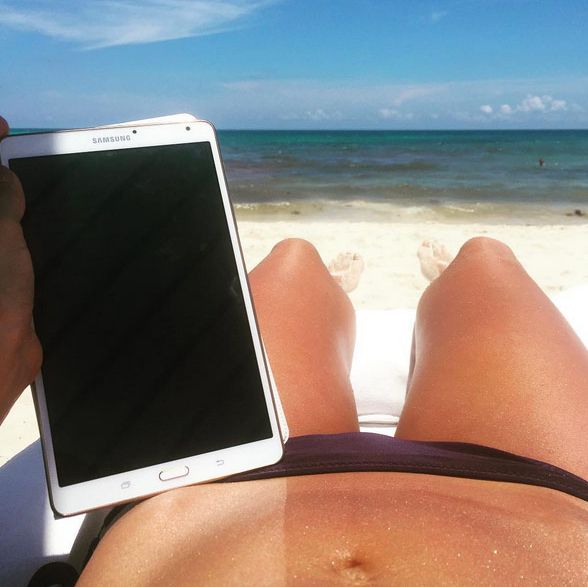 Photo: Jessica Alba/Instagram
While we and the rest of the non-famous masses spend our summers enjoying majestic vistas of cubicle walls and slowly loading PCs, celebs tend to frolic in Ibiza, Malibu, Mykonos, or wherever they've dropped anchor on their yacht. The beautiful people go to beautiful places. But no matter where they go, we've noticed a certain recurring feature in the landscape.
It's a point of view, really, that view being a glimpse of enviable terrain framed by two toned thighs and, often, a flat plain of abs in the foreground.
In a classic of the genre, Jessica Alba took a recent vacation to the Isle of Samsung, where she captured a breathtaking view of her Vacation Thigh-Gap. Staring at shimmering skin, sand, and sea, she told us that there was "no place" she'd rather be.
Whether it's because celebs are truly transfixed by the artistic qualities of this perspective or are simply too lazy to get up and take a proper shot, the VTG is seemingly everywhere:
Heidi Klum's marveling at Bikini Bridge. I think it's a popular tourist attraction in some small beach town on the Amalfi Coast.
Kim Kardashian loved this poolside view of Vacation Thigh-Gap so much, she 'grammed it twice in once week.

How was Thighland, Brad Goreski? I hear it's lovely this time of year.
Perhaps someday Bella Hadid's Vacation Thigh Gap will be a registered historical landmark.
With her busy schedule, Beyoncé only had time to appreciate the view of a single thigh before returning to work.
As fall looms, though, one wonders if Vacation Thigh-Gap can make the transition. Sure, celebs seems to be on the beach year round, but only the truly committed will lay down on the ski slopes for a winter version. Fingers crossed (and thighs apart).