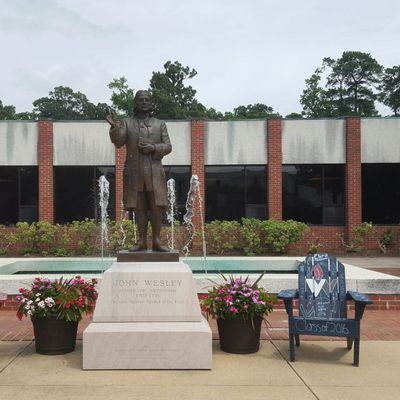 Virginia Wesleyan College.
Photo: Virginia Wesleyan College
Add this to the very long list of reasons why women often don't report rape: In the latest account of a campus rape case being grossly mishandled, a college has demanded to see a rape survivor's entire sexual history.
The woman, who is suing Virginia Wesleyan College under the pseudonym Jane Doe, was assaulted by a male classmate during her freshman orientation in 2012. That student was found responsible for sexual misconduct and expelled in 2013, yet Doe's ongoing lawsuit alleges that another male student, who was employed by the college as a peer adviser, gave her drugged alcohol on the night of the assault.
The Huffington Post reports that a recent filing by the college's attorneys asks for the names of everyone Doe has ever had intercourse with, as well as the names of her boyfriends since the time of her assault. According to the filing, while the school acknowledges that her sexual history is a "sensitive subject," this information is needed to verify Doe's claims that she was a virgin at the time of her assault, and also, apparently, to investigate whether she really was as traumatized as she says she was.
Explaining the reasoning behind the demand, Mark C. Nanavati, an attorney hired by the school, told HuffPo: "Miss Doe is seeking money damages based in part on the following claims: she is unable to have sex, does not have any interest in sex, and has experienced difficulties in romantic relationships due to her inability to have sex and lack of interest in sex. Given the significance of these claims in a case where $10 million is at issue, Virginia Wesleyan has to investigate these claims like any other claims Miss Doe is making in order to properly investigate and defend this suit."
According to the Huffington Post, the school's lawyers are particularly interested in speaking with the first sexual partner Doe had following her assault, who they believed could provide "details of the sexual encounter" to help determine whether Doe's account of her trauma is credible.
Doe's attorney, Jonathan Halperin, has so far refused to provide the information in question. "This is a drug facilitated rape of a freshman woman on her third day of orientation by a stranger," he said. "To ask the victim in discovery to name every sexual partner and romantic interest she has ever had is irrelevant and outrageous and totally inappropriate. It is intended to harass and intimidate the victim."
Doe told the Huffington Post that her school's "invasive questioning about my entire sexual history only strengthens my resolve to move forward in this case so others may not have to endure this."