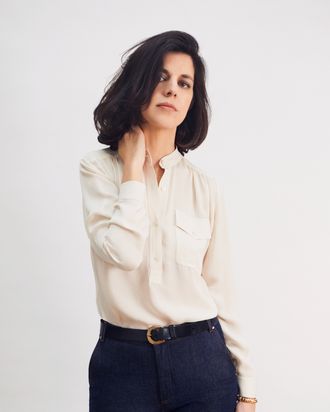 A few years ago, when Vanessa Seward was the designer of Azzaro, Studio 54–esque cocktail dresses were her bread and butter. "I never thought I would do jeans," she recalls. Cut to the fall 2015 show for her brand-new namesake brand, where models walked out in high-waisted denim and even a jeans suit — a cleaned-up French take on the Texas tuxedo. "I grew up in that era when designer jeans were really big," she recalls. "I never used to be a jean girl. But once you find a pair that makes you look really good …" Suddenly, she trails off, as if to indicate "Say no more."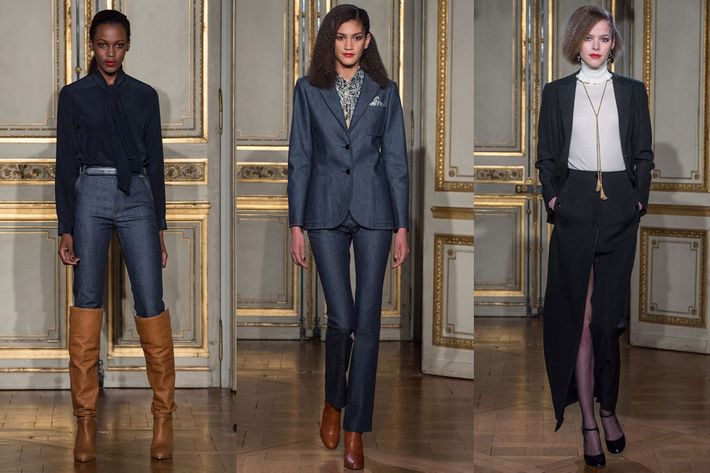 It sounds like Seward, reached while on a laid-back Pyrenees vacation, is more of a denim girl nowadays. "My life changed," after she left Azzaro in 2011, she says. "I had a baby. And A.P.C., I find it a very hip brand, [but] it's more casual than houses like Chanel and Azzaro, where I had been working before." Seward is referring to the popular capsule collections she did with A.P.C. for several seasons. Her new line grew out of that linkup and is in fact backed by the Jean Touitou–led fashion powerhouse. As compared to the capsules, the new line includes more of what she calls "couture fabrics" and is priced higher, with pieces starting at 160 euros (or $177 at current exchange rates) and going up to 2,500 euros ($2,770) for a shearling coat. In addition to her website and Net-a-Porter, the line is sold at Le Bon Marché and Printemps in Paris, and at Fenwick in the U.K. — a total of 20 points of sale around the world, which is quite the accomplishment for a fledgling operation.

Between the retro denim and the tie-neck blouses with prints inspired by Abraham (think the Swiss answer to Liberty prints), the collection fits neatly in with the '70s revival we've been seeing for the past couple of seasons, but Seward doesn't cop to being strongly influenced by that decade. "What I try to do when I design is to make [the clothes] as neutral as possible," she says. "I don't really like overdesigned clothes. The '70s thing is not something I do consciously — because I would never want anything to look like a [costume] or something like that."

Seward, who spent time at Chanel and Yves Saint Laurent, learned a lot from her mentors — Loris Azzaro taught her that "You can never kind of congratulate yourself on one collection, you have to make the next one better." And from Karl Lagerfeld, she learned to be future-focused: "He would always look ahead and never look back," she recalls. These days, Seward seems to be enjoying her independence. She talks about "getting approached for a lot of old houses that want to relaunch, but no one seems to want to bet on a new generation of designers." Next up for her: opening a boutique in Paris's 1st Arrondisement, on the Rue d'Alger, not far from Colette, in September, and hopefully a U.S. store next year. While that seems awfully ambitious, Seward insists she's pacing herself. "I really want to do this well," she says. "I prefer doing less and well, than a lot and badly."

As for how her return to the fashion fold has gone so far? As she puts it bluntly, "A lot of people were very happy I was back."

Seward answered our Taste Test to gauge some of her fashion and pop-culture preferences.

Catherine Deneuve or Françoise Hardy?
Both, but if I have to choose it would be Catherine Deneuve as I admire her personality as well as her style and career.

Cocktail dress or le smoking?
You need one perfect smoking but you can never have enough beautiful cocktail dresses.

Lamé or lace?
There is always a touch of both in my collections.

Jean-Luc Godard or Jacques Demy?
Jacques Demy, especially after having worked on the costumes of the stage version of The Umbrellas of Cherbourg.
 
Paris or the Pyrenees?
Paris, because I still don't drive!

Bell-bottoms or skinny jeans?
I don't really like either as they are too connected to an era.

Drink of choice?
Bloody Mary.

Theater or cinema?
Cinema. I'm a big fan of Hollywood's golden age.

I know you are an Anjelica Huston fan. What is your favorite role of hers?
I loved her in Prizzi's Honor or as Morticia Addams but I find her modeling photos especially inspiring, as well as her real-life style.

What are your favorite brands, besides your own?
A.P.C. and Valentino.