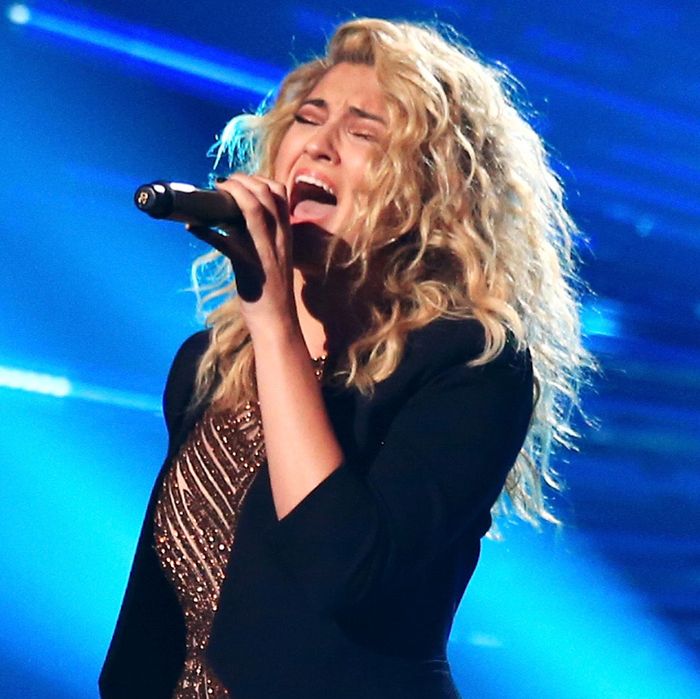 Photo: Christopher Polk/MTV1415/Getty Images
As you probably saw last night, Tori Kelly sings runs that can melt your face off. The 22-year-old YouTube-bred pop star can turn every Yeah into an endless, acrobatic Yeaaaeeeeaaaaaeeeaaooahaaoaoaoah, as if she has an entire gospel choir living in her throat. She got her start deploying that signature melisma doing cover songs on her video channel, where none other than megamanager Scooter Braun reportedly spotted her and added her to his client list.

Along with Scooter, I've been watching. Repeat viewings of every video on Kelly's channel (not to mention her cheerful urban-pop earworm "Nobody Love") have convinced me that she can sing anything — literally anything — and make it sound incredible. (Her cover of a Paramore song even made me like a Paramore song for one minute. One.) I wondered if I could survive one of those runs at close range, if my skin would maintain its physical form. So, I emailed her PR team: "Hey, I kind of want Tori to melt my face off. Would she sing karaoke with me?" To my surprise, her management said yes.
That's how I found myself in a private room at Karaoke Boho late one afternoon with my regular duet partner, Seth, in tow. Team Tori was running about 40 minutes late coming from a Today show taping, which meant we had plenty of time to get our pipes into pop-star shape. We giddily anticipated seducing Kelly into a close personal friendship with the power of song. Because while the literal translation of karaoke is "silent orchestra," everyone who's ever done it prefers the more poetic interpretation: "activity that turns strangers into friends."
Maybe it's weird and Misery-like that we would assume we could become friends with a 22-year-old singer being groomed for pop domination. We didn't care. Kelly has been singing professionally since the age of 12, but accessibility is part of her brand. It's more than her mellow SoCal vibe — it's the intimacy of having spent so much screen time with her. This is true of Kelly and the rest of her generation of performers who have been discovered through self-recorded and self-released YouTube videos. We carry them around in our pockets, on our phones. We feel like we know them.
Like a diary, Kelly's channel has chronicled her progression from raw cookie dough to almost fully baked cookie. It includes clips that would normally be saved for a Behind the Music episode — just her and an acoustic guitar, honing her voice and making some questionable blonde highlight choices along the way. The apparent rawness and authenticity of the videos is responsible for the real-feeling intimacy that fans form with the Tori Kellys of the music world — they are our friends before they are our stars. Tori Kelly is not a professional singer with a single out, but an omni-bud who'd get late-night diner mozzarella sticks with you while revealing which curl-tamer she uses because she wants your hair to look just as good as hers. She's someone who'd show up at your afternoon karaoke party.
By the time she was 18, Kelly had already tried the more traditional ways of breaking into the industry, but they didn't work out. The record deal she signed at 12 fell through, and she was vigorously discouraged from pursuing her dreams by Simon Cowell after a dismal American Idol audition. "I was a kid in the industry and didn't know who I was as a person yet, let alone as an artist," she told me. "You have no choice but to go through the motions and work with every songwriter and producer under the sun. You have all of these meetings where you have no idea what they're talking about."
After those experiences, she did what any disappointed teenage girl would do: She went to her room and went online. In a canny move, she'd post a cover song — say, her singing Alicia Keys in her room one night — and then immediately post an original song. Her cover of Frank Ocean's "Thinkin' Bout You" got her 23 million views, Braun as a manager, and a second record deal.
Kelly walked into our session just as Seth was ripping into the soaring bridge of Bonnie Raitt's  "I Can't Make You Love Me." She was accompanied by her publicist, her stylist, her makeup artist, Braun, her mother, another person, another person, and a couple more. She's definitely gone from YouTube to Entourage, I thought. Seth continued with his emotional rendition as Kelly greeted us with hugs and smiles. Seth even sang during the hug. Why was he still singing? "Seriously, Seth, stop singing," I hissed under my breath. We offered her water.
We had agreed that I would bring a set list, let Kelly add a few songs, and see if she could sing whatever was thrown her way. I wanted to challenge her, if possible. Could she turn Danzig into a smooth ballad Could she rap? Could she wail that epic part of "Gimme Shelter"? (We'll never know, as her team balked at letting a squeaky-clean, dimpled pop star scream "rape and murder" over and over.) I kind of wished I could bring Rebecca Black into the room and see what magic would happen.
But Kelly is an artist who knows what sound she likes. While she flipped through the sticky pages of the song book, everyone in the room called out songs. "How about Celine Dion?" someone would say, and she would politely decline. Scooter looked up from his Snapchat and suggested "Fallin," which she also declined, less politely. She gravitated toward '90s and early-'00s pop stars. Her first song was Britney's "Baby One More Time." Her next two choices were "Lose Yourself" and "Are You Gonna Go My Way." I did not suggest Danzig.
Although this was meant to be, like all karaoke, a group bonding activity, Seth and I quickly realized neither of us could perform with Kelly's voice in the mix. She would gamely and generously grab his arm, pulling him in to sing, or hold the microphone up to my mouth, but we could not keep up. It was like attempting to walk with a god. We were sullying the purity of her voice, and I'm certain I was sweating all over her.
Things became more surreal when Karlie Kloss arrived. She had been lunching nearby and wanted to meet Tori. Seth and I exchanged glances, wondering if we were watching a real-time recruitment into the Taylor Swift Squad. But unless we missed a secret handshake, Kloss was there, like the rest of us, to listen. We gave up on singing and just sat down with the other ten-odd people in the room to watch what turned out to be a life-changing private karaoke concert.
Kelly finished her set with a version of "Killing Me Softly" and politely thanked us. "That was my first time doing karaoke! I definitely want to do this again!" Ironically, the only time she faltered was when she performed a karaoke version of her own song "Nobody Love." Seeing her own lyrics bouncing across a TV was way too meta for her. "What? They already have my song in a karaoke machine?" she wondered, in genuine disbelief. (Karaoke Boho, by the way, really does get the hits early.) She'd start to sing, and then stop, laughing at how absurd it was to hear her hit single all karaoke-ized. Until the bridge, of course, when she told us to "hold up" and hit the song's huge, soaring run at maximum power.
Now that my questions about Kelly's voice were answered (she really can sing just about anything, and yes, those face-melting riffs are just as incredible in person) I was left with just one: After that karaoke encounter, would anything ever compare to a close-range Tori Kelly experience? After seeing her VMA performance of  "Should've Been Us," I have my answer. At any distance, nobody's face is safe.