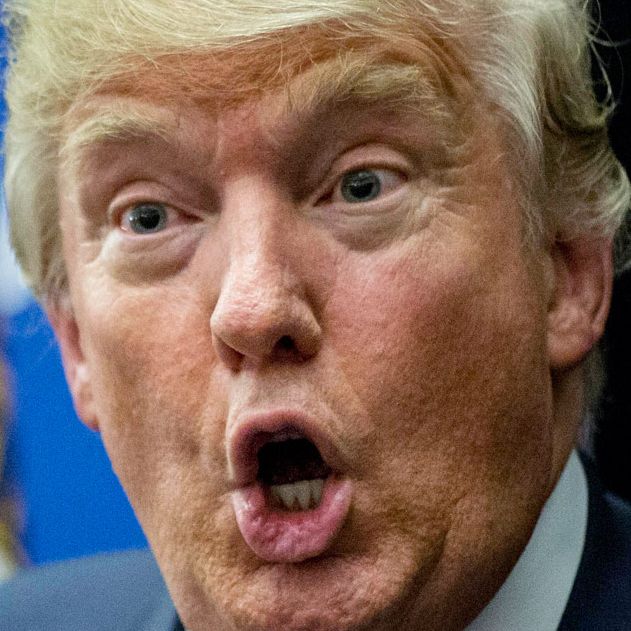 Megyn Kelly, Donald Trump.
Photo: Getty Images
When Fox News anchor Megyn Kelly became the target of Donald Trump's unchecked misogyny earlier this month, she responded like an adult. After Trump said that Kelly had "blood coming out of her wherever" at the first GOP debate when she challenged him on his attitudes about women, Kelly said on her show that she had very maturely "decided not to respond … This is a tough business, and it's time now to move forward." A few days later, she announced she was taking a much-needed vacation, presumably to clear the air.
But if anyone thought that Trump might be inspired by this display of high-mindedness and leave Kelly alone, they were mistaken. Last night, after The Kelly File, the 2016 election's most unrelenting troll took to Twitter to broadcast his unceasing obsession with the news anchor.
In addition to taking digs at her vacation, Trump also took the opportunity to retweet someone else referring to Kelly a "bimbo."
So far, Kelly seems to be sticking with her resolve not to respond.
Update: This afternoon, Fox News chairman Roger Ailes issued a statement condemning Trump's "verbal assaults" on Kelly, and calling on the presidential candidate to apologize. "Megyn Kelly represents the very best of American journalism and all of us at Fox News Channel reject the crude and irresponsible attempts to suggest otherwise," Ailes said. "I could not be more proud of Megyn for her professionalism and class in the face of all Mr. Trump's verbal assaults."
Noting that Kelly's questioning of Trump during the debate was "tough but fair," Ailes added: "Donald Trump rarely apologizes, although in this case, he should. We have never been deterred by politicians or anyone else attacking us for doing our job, much less allowed ourselves to be bullied by anyone and we're certainly not going to start now." Ailes's rebuke marks a departure from his previous strategy for dealing with Trump: Following the debate, Fox notably muted its defense of Kelly.
Meanwhile, other Fox News anchors have supported Kelly on Twitter: