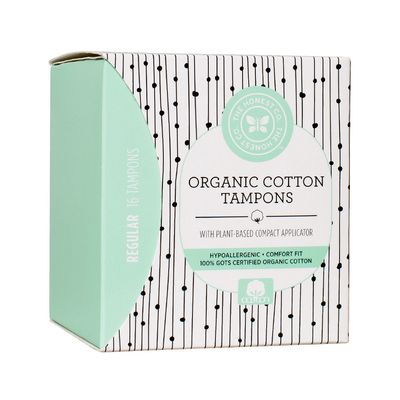 Jessica Alba's Honest Company announced earlier this year that it would offer organic cotton tampons (and pads and liners) — and now they're available online. In July, Alba told Cosmopolitan's website that the company expanded into feminine care to give women "healthier and safer options." But the thing is, natural tampons aren't any healthier or safer (for your body at least) than traditional ones.
While it's true that there are no studies of long-term tampon use, there's also no medical data suggesting women should use organic products instead. Rumors that tampons contain harmful chemicals like asbestos and dioxin (a controversial rayon-bleaching byproduct that's been linked to hormonal changes) are indeed rumors. Tampons are considered class II medical devices subject to FDA oversight and manufacturers use a newer rayon-bleaching process that results in only trace amounts of dioxin.
As far as the risk for toxic shock syndrome (TSS) goes, natural fibers aren't any safer than synthetic. The Honest Company's product description says its tampons don't contain "synthetic superabsorbents," yet the superabsorbent materials associated with a flurry of TSS cases in 1980 aren't used in any tampons in the United States, thanks to the FDA and the CDC.
Of course, Alba's pitch isn't only about health; it's partly environmental, too. The cotton is certified organic by a company that also requires safe conditions and fair wages for workers, and the applicator is made from 90 percent or more plant-based materials (as opposed to plastic — and they also sell non-applicator versions). So, if you care about responsible manufacturing, or you like that Honest is partnering with feminine-hygiene charity Days for Girls, Honest Company tampons could be a good option. But don't fall for health-scare marketing that's not grounded in science.