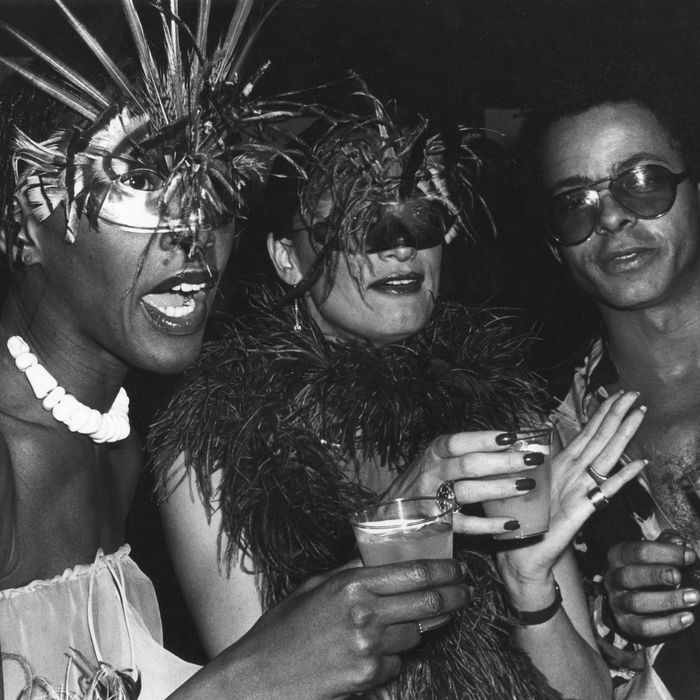 Photo: Rose Hartman/Getty Images
If you aspire to gain entry to the Marc Jacobs–hosted party for the book Gloss during New York Fashion Week, do not wear anything with a (shudder) matte surface. Otherwise, you'll be violating the dress code heard 'round social media last week. Also on the banned list: "flat shoes and natural looks." (The horror!) Instead, you should opt for — as the much-circulated invite called for, in small but insistent capitals — "FUR COATS OVER LINGERIE … JERRY HALL SIDE-SWEPT HAIR … PATTI [sic] HEARST SYMBIONESE LIBERATION ARMY GEAR." Can a run on berets be far behind?
In a world of 24/7 athleisure, insisting on an exacting dress code is a cannily counterintuitive move. The party couldn't have gotten better PR, with much of the reaction of the gleeful, isn't-this-fabulous sort. Between the Gloss party and the Harper's Bazaar Fashion Week extravaganza, whose invitation calls for "fantasy evening attire," it won't be a dull Fashion Week. Back in the spring, Steven Klein and NARS helped pave the way for the trend when they hosted a night of NSFW revelry in a mansion in Yonkers, with partygoers wearing crocodile hats or dripping in jewels. And this fall, nightlife fashion is even getting the museum treatment with "Fashion Underground: The World of Susanne Bartsch" at the Museum at FIT, which will surely give aspiring hosts plenty of inspiration.
The current mood is a callback to an era of over-the-top, no-holds-barred ostentation — think Truman Capote's Black and White Ball, or every night at Studio 54, where Bianca Jagger accessorized with the ultimate investment piece: a white horse. Perhaps it's part of the pendulum swing we've seen away from all things "natural" —  from stark minimalism to Alessandro Michele's embrace of magpie maximalism in fashion, from multistep "no-makeup makeup" to elaborate contouring in beauty. Grab your false eyelashes and your fuchsia blush — artifice is in.
Roger Padilha, co-author of Gloss and co-owner of Mao PR, is hosting the party and came up with the dress code, with plenty of input from Jacobs. The guidelines are a nod to a bygone era of playing dress-up for nights out. "Marc and I are close friends and we are always talking about clubs like Jackie 60 that we'd go to in the '90s," which would host over-the-top weekly themed events like a Bettie Page fetish party or a Cyber Robot event, he recalls. "That party encouraged guests to dress up in the different weekly themes with a hilarious dress code on their invites — and people used to follow them! The best part about going out those days was figuring out what you were going to wear and inviting your friends over beforehand while you dressed. It was like Halloween every week!" (Padilha now has his office next door to Jackie 60's former downtown stomping grounds, and says with bemusement that where he once found himself leaving the club at 8 a.m., he's now heading to work at the same time.)
Wild dress codes have found their way into private life as well. Danielle Prescod, accessories editor at InStyle, has been flying the flag for some time now, hosting elaborate themed parties with specific dress codes for her birthday; this year's was Mo' Money, Mo' Problems. "Most of my fashion friends got SUPER into it. I mean like 'calling in looks' into it," she says, "and were fully styled down to hair and makeup … My motto is always to go for it." For fashion publicist Chris Constable, the event planner Bronson van Wyck's Bal des Sauvages–themed 40th birthday, complete with Candice Bergen in bunny ears and Roopal Patel in an elaborate butterfly mask, set the tone. "It changes up the more mundane cocktail/fashion event," he says, "and helps to show off everyone's creativity [rather] than wearing black, or a street-style shot outside a show."
Out columnist and nightlife chronicler Michael Musto, who threw himself a zebra-themed birthday party at El Morocco in the '90s, recently got to relive those glory days last week at dance legend Sir Ivan's Village People–themed party, held at his castle in Water Mill, New York. "I went to Screaming Mimi's and got a leather cap, so I could fit in with the swarms of people dressing up like the Village People's macho stereotypes," says Musto. "I wasn't very convincing as a leather man, but with that one simple gesture … I managed to fit in a little more, while also adding to the festive, retro air that permeated all the way down to the music and some of the VIPs."
Meanwhile, Padilha says that he and Jacobs have been enjoying the attention from their viral hit, which quickly blossomed into memes featuring SNL's Stefon and The Sound of Music song "My Favorite Things." Padilha and Jacobs have "been texting this whole week with funny screen-grabs of all the attention the dress code has gotten," Padilha admits. "When I was a fashion student, I always imagined that NYFW events would be so glamorous and over-the-top and everyone would be dressed up in the most amazing clothes — I mean, it makes sense that the fashion industry would be excited to get dressed up for an occasion, right?" he adds. "Well, nine times out of ten, it's a bunch of models in tank tops and jeans mixed with industry people in pretty conservative chic but plain black. It's time for us to celebrate why we got into this business in the first place — taking risks and having fun in clothes and looking amazing doing it. If we don't, then who will?"