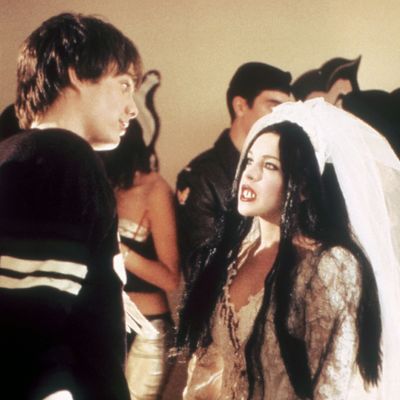 Photo: Paramount/Courtesy Everett Collection
Every wedding has at least one guest who is on automatic "watch" — i.e., your pervy cousin Allison (sup) or your fiancé's rowdy "partner in crime" who will probably puke on someone. For Justin Etzin and model Lana Zakocela that wedding guest was Lindsay Lohan. 
"Page Six" reports that the splendor of their "lavish" four-day wedding in Florence was overshadowed by the antics of one delightfully erratic redheaded actress/singer/fuck list auteur. Here are all Lohan's rumored shenanigans, in order of increasing belligerence:
• She was "painting her nails during the ceremony and looking at her phone."
• She left the reception early.
• She ran around naked claiming she was drugged.
• She wore white.
• She got upset when someone took her photo during her DJ set at one of the wedding events. And asked, "Who took the photo? Don't be an idiot," in a British accent.
• She developed a fake British accent.
• She DJ'd a wedding event.
• She repeatedly played Brandy and Monica's "The Boy Is Mine" during her DJ set at the wedding event where she developed a fake British accent.
The couple's reps have already reached out to "Page Six" to dispel the rumors, but honestly, it's the best gift these newlyweds could ever ask for. Just think: 15 years from now, after the inevitable boredom of well-worn monogamy settles over them, when their nightly conversation is reduced to Stop hogging the duvet, and You're snoring over The Daily Show again, they can look at each other and say: Remember Lindsay at the wedding? Thank God we invited her, and share a laugh hearty enough to rekindle the spark.