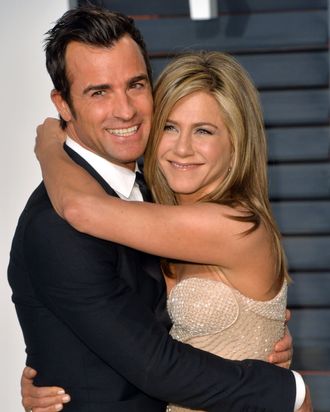 Photo: Anthony Harvey/2015 Anthony Harvey
Unless you've been living in a dump of your own design, you probably have learned by now that Jennifer Aniston (Friends) was betrothed to her beloved Justin Theroux (Tropic Thunder) at a house-side wedding with 75 of their closest friends in attendance. The surprise wedding — all shade intended — was held on a Wednesday, that is, to prevent people from suspecting something was going down.
While few details emerged in advance of the event (even Jen's friends were kept in the dark, which is rude if you're the kind of person who frequently wears dad jeans and mandals), information is now starting to appear. A cover story for People alleges to be full of juicy details on the at-home event, a home that cost the couple $21 million. There are very few stories that do not point out that the Aniston-Theroux abode cost them $21 million. Some might say that a house so pricey would also be a great place for a wedding. Well, would you look at that: a wedding!
So, who showed up to this thing?
The nuptials were attended by the young, rich, beautiful, and occasionally weird. After all, Justin Theroux still wears a chain wallet. The most-famous stars to attend the J-ennifer wedding (handy portmanteau of Justin's and Jen's first names) are here, though there is no mention of David Schwimmer. Maybe they were on a break.
Ellen DeGeneres
Sandra Bullock
Jimmy Kimmel
Howard Stern
Ken Marino
Portia de Rossi
Lake Bell
A squad of blonde women and men in pastel button-downs who seem unworthy of identification
John Krasinski
Emily Blunt
Chelsea Handler
Sia
Lisa Kudrow
Robert Downey Jr.
Samantha Ronson
Courteney Cox
Tobey Maguire
Orlando Bloom
Whitney Cummings
Me (JK)
Howard Stern and Robert Downey Jr. gave speeches at the event, while a woman wearing an elaborate disguise sang songs, including "Happy Birthday." It was Sia. The couple celebrated both their wedding and Theroux's 44th birthday, so to keep the party going until 4 a.m., Samantha Ronson spun good tracks on the ones and twos. The party allegedly stayed very spicy for many hours.
Why did the pair have the nuptials at their $21 million house?
According to People magazine:
After considering a destination wedding or eloping, they opted to say "I do" at home: the hillside estate with terraced grounds that Aniston bought in 2012 – in part so they could include their dogs, German shepherd Dolly and pit bull mix Sophie, in the celebration. "They are like Jen's babies," says the source. 
So far no details have emerged as to what role Aniston's dogs played in the wedding, but I'm going to guess that they were bridesmaids.
What was the deal with Howard Stern's speech?
On Howard Stern's radio show Monday morning, anyone in the center of the Venn diagram between "fans of Jennifer Aniston" and "listeners to Howard Stern's radio show" was given a little insight as to how Stern scored an invitation:
"Evidently I'm in demand," he quipped. "I'm very friendly with Justin. I like him very much. I like him, I really admire him. I even said in my speech to them that if one of my daughters brought home a guy like Justin, I'd be very pleased. Except for the s–tty tattoos. Cause he's got some f–king weird ones. And except for the fact that I gave him a journal to draw in and he draws pictures of dead zombie babies with blood dripping out their head on every almost page. I said, those two things might disturb me. But aside from that …" 
Hm. Okay.
Though Stern was able to keep details of the event to himself beforehand, now that the cat is out of the bag, he's got more gossip to spill than the Smart Water–branded ice-sculpture fountain that was probably a centerpiece of the $21 million home's backyard. In fact, he had this crass tidbit to share about his new obsession (Orlando Bloom), a man he described as being a "better-looking Johnny Depp, Brad Pitt, and Tom Cruise all rolled into one":
"I said to him at one point, 'This must be tough for you to be at this wedding. You haven't gotten laid or gotten a blow job in a half an hour. You must be used to getting f–ked every 15 minutes.' He said, 'You know, you're right.' So I said to Whitney Cummings, 'Would you take Orlando somewhere and blow him?' And she said 'Okay!' And she lifted up her dress. It was very funny."
Sounds like a good time.
How did they pull this crazy thing off without anyone knowing?!
Shady, shady! While it's amazing to think that J-ennifer share a $21 million Bel Air home together, it's even more incredible to hear that they have a second house behind their property, a house used to bring in supplies for the wedding without anyone knowing. TMZ has the story:
The home, located directly to the south, became a staging area … the wedding decorations, tables and various supplies were all there, ready to be moved to Aniston's main house at the last minute.
Unfortunately, there are no details on how much this house cost Jennifer and Justin.
What will J-ennifer do now? 
Directly after the wedding (Thursday morning, if you recall), the newlyweds boarded a private flight to Bora Bora so that they could have sex for the first time. If you thought that these two were the kind to enjoy marital bliss wrapped in the arms of only their lover, then you were wrong. Jason Bateman, Courteney Cox, their spouses, and their rugrats all came for a little fun in the sun, which, hey — whatever makes you happy. In this image on TMZ, you can see that Jen and Justin are facing the opposite direction from their friends as a boat chugs on. Are tensions already high? I'd gather yes.
How much did Jennifer Aniston and Justin Theroux's house cost again?
$21 million.
Happy birthday, Justin Theroux.