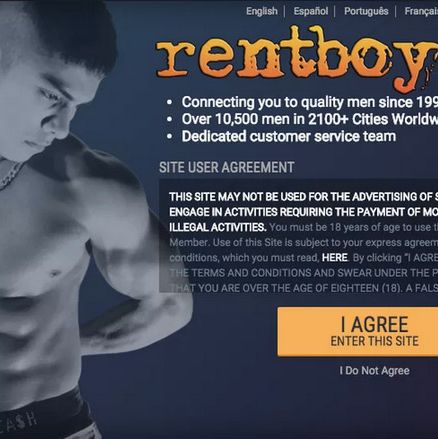 Amid an increasingly high-profile international debate over the decriminalization of sex work, the online male-escort service Rentboy.com was busted yesterday on charges of promoting illegal prostitution. The company's CEO, Jeffrey Hurant, and five other current and former employees were taken into custody, appearing in Federal District Court in Brooklyn yesterday. Rentboy's COO, Shane Lukas, was arrested and arraigned in South Dakota.
"As alleged, Rentboy.com attempted to present a veneer of legality, when in fact this Internet brothel made millions of dollars from the promotion of illegal prostitution," Kelly T. Currie, acting U.S. Attorney for New York's Eastern District, said in a statement. The criminal complaint alleges that, despite disclaimers on the site that advertisements are for companionship only, there "is probable cause to believe that anyone employed by the organization was aware that its aim was the promotion of prostitution."
The complaint claims that escorts pay anywhere from $59.95 to $299.95 a month for a profile on the site, depending on the visibility of advertisements. Allegedly, escorts list "primary interests," which include preferred sex acts and fetishes, and profiles also include required fields for rates. The complaint also details comments made by various employees claiming the site's director, Michael Sean Belman, has given interviews indicating that the escorts are offering sex. Allegedly, COO Lukas had said that Rentboy "is about smart sex selling," and, earlier this year, CEO Hurant gave an undercover DHS officer a business card with the email address cyberpimp@rentboy.com.
Outside the courthouse yesterday, Hurant's lawyer, Charles Hochbaum, said that the case raises a First Amendment issue. "My client advertises for people who are willing to be escorts, to accompany people for their time and be paid," he said, according to the New York Times.
"I don't think we do anything to promote prostitution," Hurant said yesterday. "I think we do good things for good people, and bring good people together."
As of yesterday afternoon, feds appear to have seized the domain rentboy.com. Hurant was released on a bond of $350,000, along with the five other Rentboy employees who were arraigned in Brooklyn. If convicted, the defendants face up to five years imprisonment and a fine of $250,000.