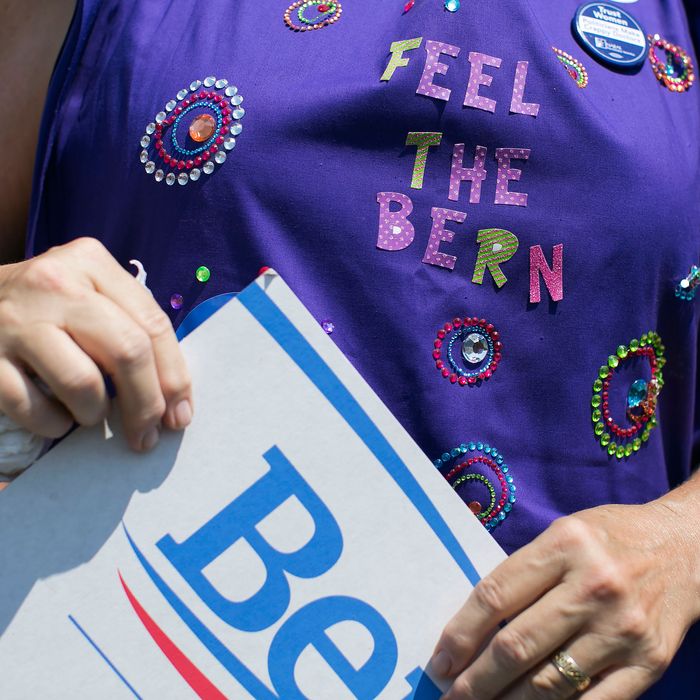 Photo: Congressional Quarterly/Getty Images
Hillary Clinton's status as the Democratic front-runner is an exciting feminist moment on a symbolic level: a woman in the White House! In Clinton's keynote speech at the Women in the World conference in April, she shared in that excitement: "I'm grateful that there is now a new burst of energy around the rights and opportunities of women and girls. There is still much more to be done, but if we get to work, we will get it done together." We may have our work cut out for us, but change can happen.
Yet Bernie Sanders, Clinton's biggest opponent in the race for nomination, would seem to be a dream candidate for liberal millennials — and among them, feminists. He's the socialist, no-b.s. campaigner for economic reform and the end of capitalist oppression; his platforms are mostly clear, he's not burdened with all that Clinton political baggage, and he has a well-documented commitment to women's rights.
Recently, the Washington Post spoke to some female Sanders supporters about choosing the Vermont senator as a candidate over Clinton. But despite their enthusiasm, a poll by Fox News from August 14 shows that Clinton's popularity is almost double that of Sanders among female voters, and a Post–ABC News poll from last month says that overwhelmingly, women preferred Clinton over Sanders as their candidate (71 percent versus 9 percent), while Sanders was polling higher among men (52 percent in favor of Clinton and 21 percent in favor of Sanders).
So we wondered: What would be the feminist case for Bernie Sanders? What are his woman-friendly credentials? Should women forgo their chance of seeing a female president in order to find the right person for the job?
First, Some Bernie Sanders Background
Sanders was born in Brooklyn and went to the University of Chicago in the early '60s. After his time in Chi-Town, Sanders moved to Vermont; there he became mayor of Burlington, then was elected to the House of Representatives in 1991, and the Senate in 2007. One of Sanders's major talking points is that he is the longest-serving independent member of Congress in history (though he'll be running as a Democrat in this election). His issues have always included addressing income inequality, saving our environment, equality for women, raising the minimum wage, and reducing corporate power over Americans' lives. Sounds good so far!
Sanders has seven grandchildren, four children, and a second wife, Jane Sanders, whom he's described as "a soul mate, a sounding board." Sanders has not yet self-identified as a "feminist," so there's been no big Beyoncé watershed moment for him, and in an interview regarding his future cabinet, he speculated about hiring three different men to fill roles in the White House but did not point to one woman. You'd think by now, he'd have considered some female colleagues.
Bernie Sanders on Abortion, Planned Parenthood, and Birth Control
Sanders, bless him, is pro-choice and pro-access to birth control, and supports funding for Planned Parenthood.
After Republican senators moved to vote in favor of defunding Planned Parenthood in June (to the tune of $500 million), Sanders condemned the action as an "attack on women's health."
In 2000, Senator Sanders voted against making partial-birth abortions illegal, and in 2006, he co-sponsored a bill to make emergency contraception universally available in hospitals for victims of rape. (The bill never came to a vote.) He also voted yes on an act that would make it illegal for pharmacies to deny birth control to patients; the bill has not yet passed. And in 2011, Sanders co-sponsored a measure with Senator Dianne Feinstein to address the country's rape-kit backlog.
Bernie Sanders on Closing the Gender Pay-Gap
Does Bernie Sanders want to close the gender pay-gap? Yes. When? As soon as possible.
Sanders addresses the gender pay-gap like this: "It boggles the mind that in this day and age, the average woman still only makes 78 cents for every dollar the average man makes." In an effort to put his 78-cents-to-the-dollar where his mouth is, Sanders has co-sponsored and voted for the Paycheck Fairness Act, an act put into motion to assure that if there are pay discrepancies between men and women, they are based on skill and qualifications and nothing else.
Bernie Sanders on Maternity Leave
Does Bernie Sanders want to extend paid maternity (a.k.a. family) leave? Yes.
Sanders said in an interview with George Stephanopoulos that he sees no problem with people suggesting that he'd like America to look more like Scandinavia because at least health care is the right of the people there. In Sweden in particular, incentivized "paternal leave" has had an impact on equal pay for women by encouraging men to stay home while women continue to work. Men and women are entitled to 16 months paid leave when they have a child, three of which men are required to take. And while Sanders isn't exactly advocating for a year's maternity leave, nor specifically paternal leave, he did offer this about his advocacy for 12 weeks of paid family leave: "Simply stated it is an outrage that millions of women in this country give birth and then are forced back to work because they don't have the income to stay home with their newborn babies."
Bernie Sanders on Gender in General
In 2012, Sanders wrote an op-ed for the Huffington Post that outlined the above points, reflecting on his career and what he's done to move gender equality forward. In the editorial, Sanders had many encouraging things to say about equality for women in the future:
Finally, let [us] understand that when we stand together, we will always win. When men and women stand together for justice, we win. When black, white and Hispanic people stand together for justice, we win. When straight and gay people stand together for justice, we win. When young and old stand together for justice, we win. When working families stand together, we win.
Still, he did end the piece with the classic male reason why women deserve fair treatment — because he has female family members:
I have seven beautiful grandchildren, four of whom are girls. Let us all work together in making sure that those four girls, and every girl in our state and country, has the same opportunity as anyone else to fulfill their dreams and live their lives without gender discrimination of any kind.
Another small example of where Sanders should know better. Besides minor slipups like this one and his speculated male cabinet, Bernie appears to put into action his advocacy for women more than any other candidate we've seen so far, and now that the spotlight is shining brightly on the Vermont senator, few uncomfortable past blunders have yet to be brought up to smear the politician regarding his current or past relationships with women. The same can't be said for our Republican friends.
That is, except for one thing: In 1972, Sanders wrote an essay on male-female gender dynamics for since-shuttered radical paper the Vermont Freeman. It was supposed to illustrate the problem with internalized gender stereotypes, but it included lines like, "A woman enjoys intercourse with her man — as she fantasizes being raped by 3 men simultaneously," and, "Do you know why the newspaper with the articles like, 'Girl, 12, raped by 14 men' sell so well? To what in us are they appealing?''
Sanders has since recanted the article, saying that "it was very poorly written in a way I certainly would not write it now. But if you read it, what you find is that is a bad situation for both people: women shouldn't be dependent. Men should not be oppressors. We want a society where people are equal. That was what it was about.''
Sanders has a long and consistent track record of encouraging equality for women, with a few confused missteps along the way. But maybe the best feminist case for Sanders's campaign is this: Even if he has slim odds in the race, Sanders's presence and influence could make Clinton a stronger, better candidate — for women and otherwise — in the long term.