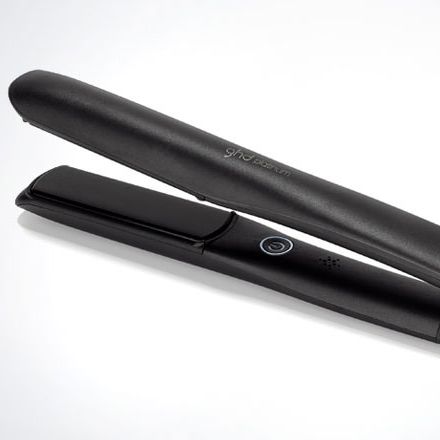 I love my big, beautiful curls. They're like a built-in pillow — making daytime naps tempting, but easy — and require only a moderate time commitment to style. But sometimes I like to go completely straight. This is a process that usually involves a deep conditioner, a blow dryer, no less than two de-frizzing styling aides, and finally, a flat iron. The flat iron is the most important part because it guarantees shiny strands and seals the hair's cuticle so it won't puff up like a blowfish at the mere mention of rain. Over the years I've learned that some flat irons are better at this than others, and the best right now is GHD's weird new low-heat version.
To use GHD's Platinum Professional Styler, you'll need to give up some control. Take the temperature. With no dial to alter the heat, you'll need to accept that its permanent state of 365 degrees will have to do. The fixed temperature is GHD's way of parenting home-stylers like me who tend to crank flat irons to max temperatures north of 400 degrees. GHD says the lower temperature protects hair from breakage while preserving the color integrity of dyed hair. (Over time, high heat can make colored hair change shades.)
This lower temperature, however, doesn't seem to affect the flat iron's ability to straighten. In fact, it took just one pass through each section of my hair to create pin-straight strands. On another day, I slid larger, two-inch chunks of hair through the flat iron's plates, and it straightened those just as easily. What's more, the straightness lasted for days. Another nifty feature on the Platinum is an ergonomic improvement. Because of what GHD calls a "wishbone hinge," you're able to open and close the flat iron with no more effort than it takes to pinch a pillow. It's not like flat ironing was a particularly taxing physical exercise before, but the easy-to-maneuver hinge makes it that much better.
Not convinced? Gigi Hadid's Barbarella hair at the MTV Video Music Awards last night was styled using the GHD Platinum Styler. Which leads me to my final point: If it's good enough for a model, a member of Taylor Swift's girl squad, and Joe Jonas's (maybe) girlfriend, then it's certainly good enough for me and my gnarly curls.
GHD Platinum Professional Styler, $249 at Sephora.