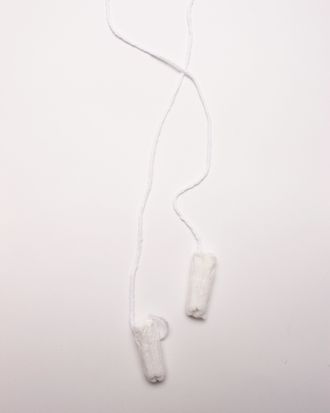 The stress of being a woman never ends. Whether you're finding the right lip shade to match the hell you are quietly feeling inside, or you're arguing for your humanity on issues like equal pay and reproductive rights, any day in a female body is one marked by near-constant pain and antagonism inflicted by the world and its sexist institutions. And then there is menstruation. Yes, on any given day of the month, anywhere in the world, blood very literally pours freely out of women's vaginas. How are those who suffer from the slights of womanhood expected to maintain even a modicum of sanity? With a new artistic development in tampon design debuting for you right here, women can at the very least suffer together — now, more than ever.
Forget brokenhearted best-friend necklaces and cosmos at happy hour. There's a new blood pact in town and it's called Friends Forever Tampons. Commemorate your sisterhood with this simple, easy-to-use product: two tampons joined by one string, just as the goddess of friendship would have wanted it. (And should your best friend lack a vagina, we're sure you can get creative.) We asked creator Kat Thek to tell us more about this modern-day upgrade to the friendship bracelet.
Will Friends Forever Tampons bring you closer to your best friend?
Yes. We guarantee that Friends Forever Tampons will bring you extremely close to your best friend for up to eight hours at a time.
What if you aren't synced with your best friend yet?
Then you're probably not actually best friends. Maybe take a road trip and try again next month.
Could there be a best friend maxi-pad prototype made? What would that look like?
One billion percent yes! We are not able to reveal the proprietary design details, but we can confirm that Friends Forever Maxi Pads will make it easy to get into the flow and ride horses/dance in white pants with your best friend.
Of course, here at the Cut, we know that most women have more than one best friend (just look at Taylor Swift!), so we commissioned an exclusive one-time-only Squad Goals Tampon, to be admired and enjoyed by you and your seven girlfriends. If you want to flow with more than one person, you can get your hands on one as well: Thek says she is happy to supply custom group tampons for "bridal showers, corporate team-building events, and assorted Lilith Fairs." Bachelorette party favor, anyone?