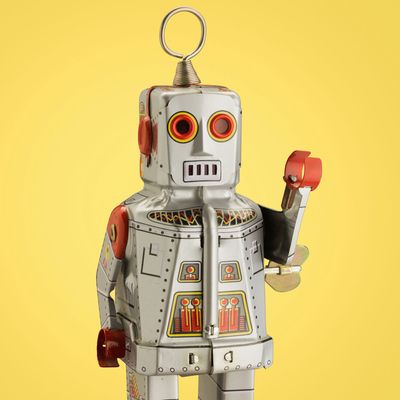 Photo: Owen Smith Photography/Corbis
Earlier this week, a 43-year-old man who lost his penis in a pretty gruesome childhood accident made headlines for receiving the first bionic penis — an eight-inch inflatable penis that works with the touch of a button. Flip the on switch, it fills with fluid and becomes erect; turn it off, and it drains and returns to normal. It took three years to make the prosthesis and an 11-hour surgery to install it — but now this man will, theoretically, go on to have sex with his robot penis.
This momentous occasion in robot-penis technology demonstrates that robot penises are not just the fevered sex dream of a futurist or even the lucrative tie-in merchandise for some erotica I plan on writing — robot penises are our future, yes, but they are also our past and present. Here, a brief highlight reel of great robot-penis moments in medical, cultural, and technological history.
1968: A patent for a phallus-shaped vibrator was created and there was no turning back. Now, you may be wondering, what differentiates a sex toy from a robot penis? I propose this distinction: A vibrator must be designed to visually evoke a dick in order to qualify as a potential robot penis or robot-penis predecessor. In my opinion, this vibrator represents the earliest prototype of a robot penis — a mechanized, single-purpose disembodied penis. The technology was simple, but with advances in artificial intelligence, just imagine the innovations in penile robotics that await us.
1975: A tech innovator named Ted Nelson introduced the concept of teledildonics: the idea of engaging in tactile sexual experiences remotely, using computers — the cornerstone of robot-penis technology.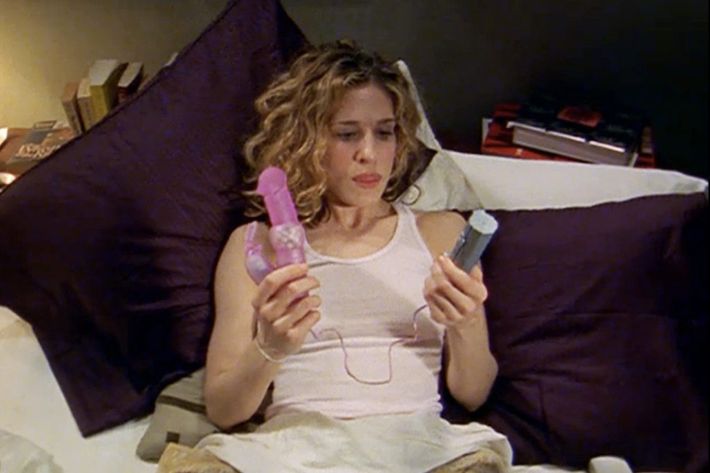 1984: Japanese company Vibratex introduced the Rabbit, one of the most recognizable early robot penises (a.k.a. vibrators). In 1998, it was on an episode of Sex and the City; in 2006, O, the Oprah Magazine referred to it as the "Rolls-Royce" of sex toys. It was probably the most widely accepted and beloved of vibrators — kind of like the R2-D2 of robot-penis prototypes.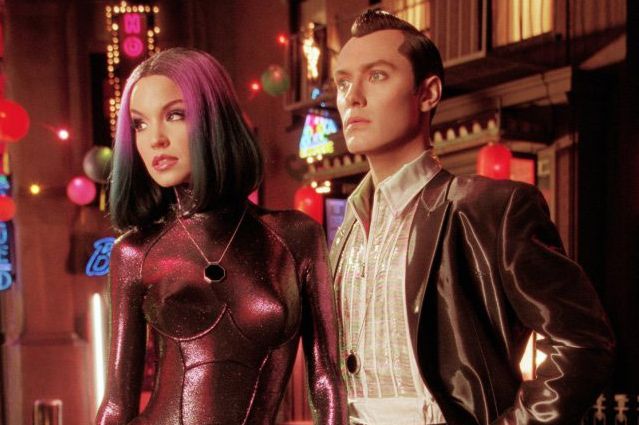 2001: With the release of A.I. Artificial Intelligence, Steven Spielberg imagined what a robot penis might be attached to, giving us a glimpse of the full potential of penis robotics. It wouldn't just be a disembodied schlongbot. Spielberg came up with a model of sex robots named Gigolo Joe: a living, thinking, autonomous sex robot that looks like Jude Law and wears suits.
2004: One of the first popular, commercial examples of a teledildonic device, the Sinulator, allowed users to connect their sex toy — i.e., a vibrating dildo — to their computer and control it (or allow others to control it) with a computer program.
2005: NASA has removed this video from its site. But in order to demonstrate "high-tech robot skin," sensor-covered material that could sense the environment just like human skin, scientists covered a huge robotic arm in robot flesh, and had it dance with a ballerina. The resulting video was ridiculous — she was basically dancing with a huge, fleshy robot penis — but the possibility of a touch-sensitive, responsive robotic penis is truly exciting.
2009: Tina Fey makes a robot-penis joke on 30 Rock. The idea has gone mainstream.
May 2014: For her thesis, an NYU student made a wall of 81 3-D-printed robotic penises that changed size. She hooked the "erectable" penises up to servo motors and programmed them to respond to the real-time movements of the stock market. Because "everyone on Wall Street is a dick."
August 2014: OhMiBod released blueMotion, a Bluetooth vibrator controlled by an advanced smartphone app. It's another iteration of a teledildonic device, but company OhMiBod claims it's bringing us closer to a "computer-engineered orgasm." The gap between man-part and machine grows ever smaller.
2050: The year in which a paper in the journal Futures predicts Sex Robots, with robot dicks, will be common place. Eventually all of these moments — bionic penises and teledildonics and Jude Law — will add up to a truly advanced penis robot. It seems the full potential of robot-dick technology is yet to come.