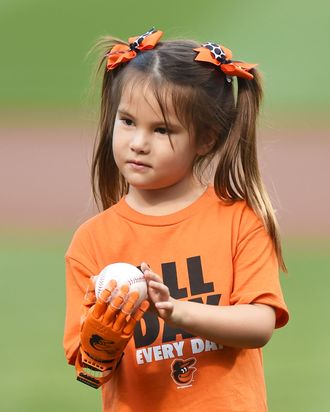 Hailey Dawson.
Photo: Mitchell Layton/Getty Images
The tradition of celebrities throwing out the ceremonial first pitch at Major League Baseball games is a long and storied one. Chris Pratt has done it! 50 Cent has done it (poorly). Julia Stiles has done it in boots. Hell, even Hero Cat "threw" out a ceremonial ball one time. But not until Hailey Dawson arrived at a Baltimore Orioles game all the way from Las Vegas on Monday night has a celebrity first pitch looked so good.
Five-year-old Dawson was born with Poland Syndrome, which means that her right hand was underdeveloped from birth. Dawson's mother, Yong, knowing that young Dawson's malformed hand would continue to grow as she got older, decided to enlist University of Nevada at Las Vegas students to 3-D print a baseball-throwing hand for Dawson instead of relying on expensive prosthetics:
The new hand, created by UNLV students, has given Hailey the opportunity to do many things that she was unable to do before with her right hand including, you guessed it, gripping and throwing a baseball.

"(The 3-D printed hand) is operated by wrist movement," Yong said. "When Hailey's wrist goes to a down motion, the fingers will grasp and when it goes in the up motion, the fingers release."
And she looks damn good doing it, too:
Her favorite player, Manny Machado, was waiting at home plate to catch her masterful toss. This has been Today in Cutiepies.