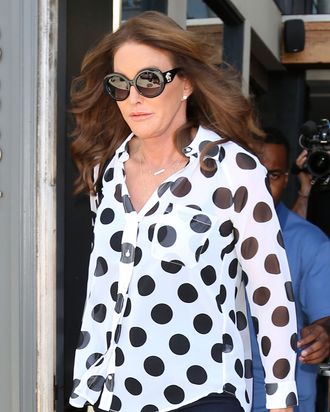 Photo: Brewer / Kreusch / Splash News/www.splashnews.com
If you pay attention to the unfortunate holiday known as Halloween, surely you've noticed the pop-up stores that suddenly start to appear like games of Whac-A-Mole at the beginning of fall in the city. One of them, Spirit Halloween, confirmed with Confidenti@l at the New York Daily News that they'd be carrying a "Caitlyn Jenner costume" this year, a fact that the company spun thus:
"Of course!" said the company's PR and marketing head, Trisha Lombardo, when we asked about the rumors. "Caitlyn Jenner has proven to be the most important real-life superhero of the year, and Spirit Halloween is proud to carry the costume that celebrates her."
The store's Halloween merchandise will go on sale in four to six weeks, so no details can be revealed about what the "costume" will look like, but there is a guarantee that it'll be both insensitive and regressive. Jenner's rep has denied to comment on the costume, but with over two months until Halloween, the pop-up store has ample time to leave this idea on the cutting-room floor, where it belongs.