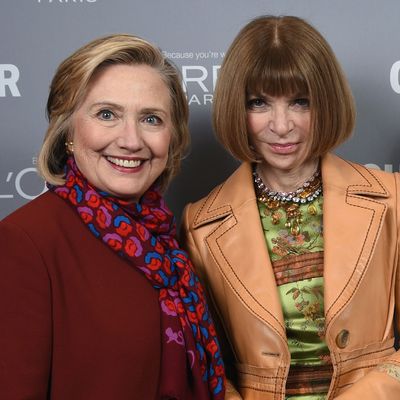 Photo: Dimitrios Kambouris/Getty Images
For the past two election cycles, Barack Obama was fashion's undisputed candidate of choice, championed in particular by top bundler Anna Wintour. The Vogue editor-in-chief might as well have been his campaign manager: She hosted multiple fund-raising dinners for Obama, marshaled everyone from Marc Jacobs to Proenza Schouler to Narciso Rodriguez to design items for his Runway to Win initiative, and put him on the cover of Men's Vogue (R.I.P.) twice. Of course, it didn't hurt that Michelle Obama has been a First Lady fashion plate on the order of Jackie Kennedy or Nancy Reagan, drawing attention to young American designers with her much-chronicled wardrobe choices.
But as politics moves on, fashion is redirecting its energies toward Hillary Clinton. Yes, she's been vilified for her pantsuits, but now the industry is throwing out its spindly arms to her. Whatever sartorial sins she has committed in the past — scrunchies, blazers in the hues of an Edible Arrangement — consider them absolved. (As much as fashion's crunchy, Birkenstock- and Teva-loving moment continues apace, it doesn't seem that Bernie Sanders — the Vermont Country Store of candidates — will be the beneficiary of any of that affection.)
It's hardly a shocker that the fashion industry would support the female Democratic front-runner — Republicans, at least public ones, are pretty thin on the ground in this world — but Clinton is excelling even by that standard. She not only has the best campaign swag, she has the support of Wintour, Donna Karan, and Tory Burch. This weekend, according to the Daily Mail, Burch threw her a fund-raising lunch at her South Hampton home — Wintour and Karan were the co-hosts, and designers Stacey Bendet and Jill Stuart were also in attendance.
Rumors of an upcoming Clinton Vogue cover persist, and she mingled with Valentino and Ralph Lauren at a DVF event a few months back. She fits in well with this glittering crowd — much more believably so than Chelsea Clinton during her short-lived immersion into all things Versace.
It wasn't always so. Clinton seems to have overcome the reluctance she had, during her 2008 run, to ally herself with fashion and glossy magazines, "princess effect" be damned. Back then, Obama scooped up her fashion supporters, and she lost key Wintour brownie points when she declined to appear on the cover of Vogue, reportedly because she didn't want to look overly feminine. Said Wintour at the time, "The notion that a contemporary woman must look mannish in order to be taken seriously as a seeker of power is frankly dismaying." They've evidently double-air-kissed and made up since then, but make no mistake: Clinton needs Big Fashion just as much as it needs her.

Certainly, the aspiring president could face some blowback, as her Democratic predecessor did, for mingling with the snooty and Céline-clad. (Conservative commentator Michelle Malkin knocked Obama for hanging out with "an elitist clique of fashion designers" preaching "hate couture." How long do you think she was sitting on that pun?) A weekend in South Hampton with fashion moguls isn't a populist move on the order of stopping by Chipotle for a burrito-bowl fix. And fashion, with its supercilious rep, is an easy target for those looking to discredit Clinton — a bit unfair, considering that any serious candidate needs deep-pocketed donors to win, and these people are hardly the Koch brothers.
But considering what powerhouse fund-raisers these fashion influencers are, it's probably worth any flak Clinton will get for fraternizing with non-everyday Americans. And who knows, Karan and co. might just give her some style tips along the way.