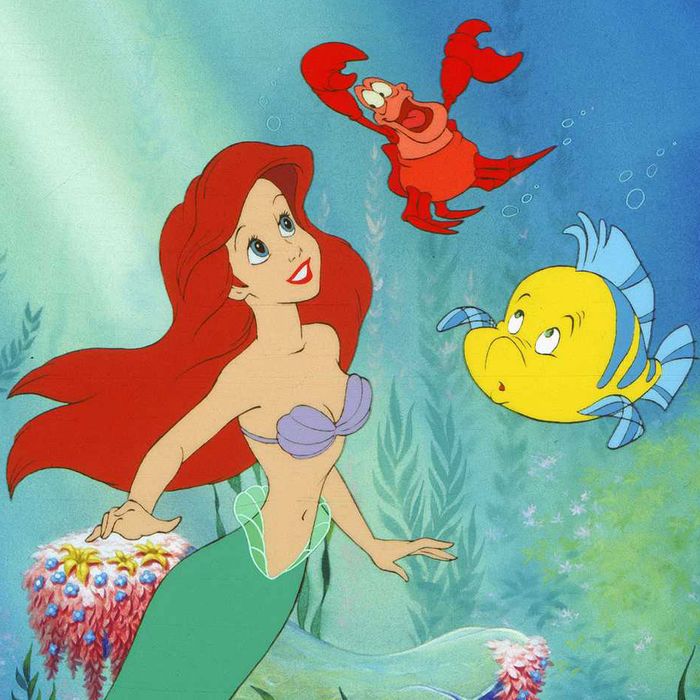 Photo: Disney Productions
Decades after you transformed your childhood bedroom into a shrine to Ariel, mermaids have begun to swim their way back to the forefront of pop culture — at least if toddler trendsetter North West has anything to say about it.
Just a week after Kim Kardashian Instagrammed her daughter and niece taking mermaid lessons from a real-live mermaid in St. Barts, Kim was spotted on Sunday filling up her cart at Toys 'R' Us with practically every mermaid-themed toy the store had to offer.
Britney Spears, meanwhile, posed with her sons on Friday dressed in full mermaid garb.
Miley, of course, appears to have started the trend, sporting her mermaid tail back in July.
And Gwyneth Paltrow posted a photo of her daughter Apple wearing a mermaid tail in early August.
The celebrity obsession with mermaids appears to have quickly trickled down to the lives of us normals; CBC reports that a Toronto mermaid school has been forced to quickly expand following high demand. Online sales for wearable mermaid tails are also up, and according to Google, searches for "mermaid tail" are at an all-time high.
Like all trends, this one has already begun to attract alarm, though — to be fair, anything that constricts your legs while you're in a body of water seems like it can't be all that safe.
Let's hope this all leads to a remake of Aquamarine with the Hadid sisters.